Belinda Bain climbs the highest mountains with her extraordinary endeavors.
Belinda Bain is one of those rare people whose energy is absolutely magnetizing. From the moment she strides into the expansive two-story cabin office of Action Zipline Tours in Big Bear Lake, faces light up and energy buzzes. She has handpicked each and every one of her team members, and all of them reflect the genuine warmth and competence that sometimes feels long lost in our world today. As Belinda begins her day with keen efficiency—and stamina to be envied—it's easy to see how this dynamo owns not just one but seven companies.
"I like to be busy, and I love what I do," she says. And it's impossible not to believe her, anyone who knows Belinda can attest to her candor. She first thought of bringing Action Zipline Tours to the burgeoning community five years ago, after she and her son went ziplining in Colorado. They had so much fun—the sport was entirely new to her—she just ended up thinking, I can build this. And build it she did.
She bought 44 acres of mountainous land and created a zigzag course with amazing year-round views. For a totally fair price, a safari Jeep takes you up into the forest, where certified safety guides chaperone you up and down the suspended cable lines with surprising agility. Whooshing through such lush surroundings at speeds of up to 45 mph is more than just exhilarating—it's marvelous in its cathartic effect.
But Belinda didn't stop there. She quickly came to love the city of Big Bear and wanted to expand her line of excursions to encourage tourism. Now you can plan a Segway tour that takes you all around the area, climb rock walls, strap yourself into a harness and shimmy up massive trees, go on a snowshoe trek, and even defy gravity on the water with a flyboard apparatus that turns you into a water-jetting Iron Man. Every tour comes with a highly-trained guide to show you the way and triple-check safety at all times. And the best part is, mostly anyone can do it (ages 10+) since you can always control your own speed.
What Belinda has done is create the ultimate teambuilding experience for family, friends, co-workers and couples. It's timed right, too. Once only thought of as a winter escape, Big Bear Lake has most definitely established itself as a four-season resort town filled with a great community that just keeps growing. The Village is home to traditional shops, brand-new luxe eateries, charming pubs, newly-paved streetside fire pits where musicians croon their tunes. A revamped concert hall pulls major acts from all over the country, and gorgeous remodeled hotels await your kindling in their fireplaces. Located just a short jaunt away for all Southern California residents needing a getaway, the town reinvents itself by the second. "It's really snowballed," Belinda jokes.
Her enterprising prowess is truly fascinating, since it has no end. As president of California Hazardous Services, out of Orange County, Belinda continues her work of nearly 30 years to help companies with environmental compliance. She invented the Soil Surgeon, the most powerful hydro-excavating tool on the market, which sells around the world. How she tackles it all with such panache remains a mystery.
As you can tell, Belinda's drive is big as life, and her spirited personality affects everyone she meets. Her generosity and camaraderie with fellow business owners make her a much-loved asset to the growth of the community. To call her friend, family or boss is to count yourself among one of the luckiest stars in the crisp night skies of Big Bear Lake. That's why we're honored to name her Entrepreneur of the Year—not just for the mountain but all of South Orange County combined.
…We also heard she does a mean rendition of Janis Joplin at the local karaoke joint. Now that would be a great excursion to join.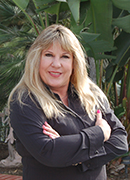 Belinda Bain
What Belinda has done is create
the ultimate teambuilding
experience for family, friends,
co-workers and couples.

909.866.0390
41693 Big Bear Blvd., Suite A, Big Bear Lake
www.actiontoursbigbear.com