The Big Bear Lake Oktoberfest celebrates 47 years of German fun this year! A true German celebration, this year's Oktoberfest introduces Ayinger Oktoberfest Bier and features three bands direct from Germany!
Located in the mountain town of Big Bear Lake, our quaint celebration has always been based on the lore of the world's original Oktoberfest. Over the years, the Big Bear Lake Oktoberfest has become world renowned for its own traditions and old-world ambience, celebrating friends, family and good times. A festival like no other, guests are treated to authentic German entertainment; feast on Brats and Knockwursts direct from the German butcher; and enjoy the very same beers poured at Munich's Oktoberfest for more than 150 years!
You can't help but participate in the fun at Oktoberfest.
Put on your dancing shoes, because you'll definitely want to do the Chicken Dance or Circle Dance. Grab one of our Gaudi's (Hostesses/Hosts) and learn to polka.
Enter one of our free contests. Saw a log, hold a stein or slam an O'Doul's.
After a few rounds of polkas, Macarana's, or Chicken dances, go outside and take a big breath of fresh mountain air. Take a stroll down the Budenstrasse (Avenue of the Booths). The outside vendor and game area features everything from homemade jams to handmade jewelry and, new this year, an old-fashioned Sweet Shop.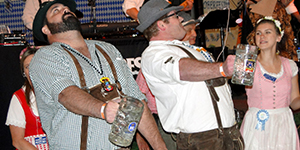 Food & Bier
What would a German festival be without German beer, bratwursts, sauerkraut, and apple strudel? We offer all the German favorites from Brats, to Schweine Braten, to pretzels, to strudel. If you're looking for something more than German food check out the new Food Court, featuring the Munich Grill serving up a variety German sausages; the Cantina with a variety of Street Tacos and salads; and the Italian Flatbread, pizza made on the grill! The Sports Park Grill features burgers, dogs, soups and kid friendly eats.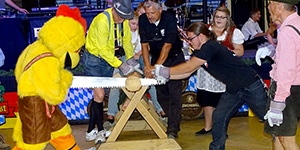 "Oktoberfest Unplugged"
One Day Only Friday, October 20th, 2017
Oktoberfest gets "Unplugged." We invite you to an intimate evening of fine German dining paired with a variety of beers and spirits. You will be treated to an inside look at the history and early beginnings of Oktoberfest. This package includes Friday evening's festivities featuring a five-course German pairing dinner, live entertainment, a commemorative one-liter stein, an intimate evening of fun, and as a bonus … Saturday and Sunday event admission. The Big Bear Lake Oktoberfest welcomes festival fans of all ages. The entertainment is non-stop fun for both the young and young at heart. Kids love doing the Chicken Dance with the official Big Bear Lake Oktoberfest mascot, the Big Bear Chicken. Big Bear's newest dance group, "Kleiner Baer Tanzers" (Little Bear Dancers) will perform several weekends. And that's all just a starter, the following are a list of children's activities at Oktoberfest.
Budenstrasse (Avenue of the Booths) & Kinder Garten
The Budenstrasse features vendors selling a variety of arts, crafts, toys, collectibles and "must have" trinkets! Also, located in the outside area is the Kinder Garten featuring bounce houses, a balloon artist, face painting, airbrushed tatoos, and games of skill.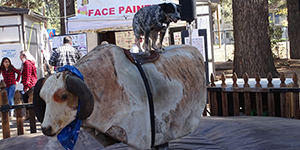 Samson the Bull Rides On
Samson the Bull (a mechanical bull) returns to Oktoberfest with his new sidekick Haley—the Australian Shepard. Haley and Samson put on one of the best shows this side of Munich! Haley can go the full eight seconds — can you?
German Spooktacular Halloween Contest
Join us on Saturday, October 28 for a Halloween party, German style. The German Spooktacular features both an adult and children's costume contest. The children's contest begins at 3:00 pm, with participant prizes for everyone, as well as the three best costumes. The adult contest is at 10:00 pm, with more than $1500 in prizes awarded this year!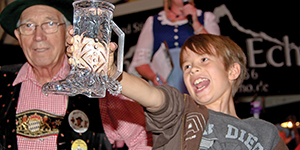 Children's Contests
Sundays are family day with half-price adult admission and FREE for children 12 and under. Featured every Sunday, are the Children's contests including Boot Holding and Cup Spiel. Children's contests take place at approximately 3:00 pm on Sundays and are FREE for children.
After a full day of Oktoberfest fun, leave the driving to us. Catch a ride on the O'Doul's complimentary shuttle.
For additonal information,
and a full schedule of events
log onto www.bigbearevents.com
909.585.3000
42900 Big Bear Blvd.
Big Bear Lake, CA 92315