Escape the everyday and join us for the hospitality, laughter and camaraderie that has made the Big Bear Lake Oktoberfest world famous. Every Fall a very special extended family comes together to celebrate the traditions of a simpler era. Rated the number-one Oktoberfest celebration in California, the Big Bear Lake Oktoberfest is less than one tank of gas away from most Southern California cities, so pack up the family and head for the mountains.
The Big Bear Lake Oktoberfest welcomes festival fans of all ages. The entertainment is non-stop fun for both the young and young at heart. Kids love doing the Chicken Dance with the official Big Bear Lake Oktoberfest mascot, the Big Bear Chicken. Big Bear's own Polka Tots perform several weekends throughout the festival, as well. And that's all just a starter, the following are a list of children's activities at Oktoberfest.
Budenstrasse (Avenue of the Booths) & Kinder Garten
The Budenstrasse features a variety of 40 plus vendors selling a variety of arts, crafts, toys, collectibles and "must have" trinkets! Also, located in the outside area is the Kinder Garten featuring pony rides, a petting zoo, bounce houses, carnival game booths, a balloon artist, face painting and airbrushed tattoos!
Samson the Bull Rides On
Samson the Bull (a mechanical bull) will make his fourth appearance at this year's Oktoberfest. Grab your spurs and give Samson a whirl. Can you go the full ride?
Children's Contests
Sundays are family day with half price adult admission and FREE for children 12 and under. Featured every Sunday, are the Children's contests including Pretzel Eating and Boot Holding. Children's contests take place at approximately 3:00 pm on Sundays and are FREE for children.
German Spooktacular Halloween Contest
Join us on Saturday, October 25 for a German Spooktacular! The final day of Oktoberfest features both an adult and children's costume contest. The contest begins at 3:00 pm and every child wins a participant's prize, as well as prizes for the top three best costumes.
Dance, Sing, Eat and Be Merry
You can't help but participate in the fun at Oktoberfest.
Put on your dancing shoes, because you'll definitely want to do the Chicken Dance or Circle Dance. Grab one of our Gaudi's (Hostesses/Hosts) and learn to polka. Enter one of our free contests. Saw a log, hold stein or slam an O'Doul's. After a few rounds of polkas, Macarana's, or Chicken dances, go outside and take a big breath of fresh mountain air. Take a stroll down the Budenstrasse (Avenue of the Booths). The outside vendor and game area features everything from antique slot machines for purchase, to handmade jewelry and candies. Have your palm read or simply enjoy an Italian Ice.
Food & Bier
What would a German festival be without German beer, bratwursts, sauerkraut, and apple strudel? It would not be very authentic! We pride ourselves on being one of the most authentic Oktoberfests in the United States. To that end, we use German Butchers, Bakers and Beer Makers! So bring your appetite and prepare to feast on German food and enjoy some of the very same beer that the folks in Germany relish. We offer all the German favorites from Brats, to Schweine Braten, to pretzels, to pickled pig feet. And, if you're looking for something more than German food, we offer that too. Cafe Americana serves grilled 1/2 pd. burgers, monster nachos, chicken tacos, chicken strips, chili, fries, onion rings and a variety of other festival-type fare!
Kindermeister Party Pack
Now little Oktoberfest fans can enjoy Oktoberfest to the fullest. Package includes admission, Kid's Meal, Sports Cup (with half-priced refills during your visit), one non-alcoholic beverage and a singing chicken keychain.
Expanded Entertainment and Seating Areas
This year Oktoberfest will feature two bands direct from Germany and additional contests have been added to the outdoor Rocktoberfest Stage. The Goldeizen Band hails from Bavaria and will perform with eight musicians Sept. 20, 21 & 27. The Aalbachtal Express also hails from Southern Germany and will be performing Sept. 28, Oct. 3, 4 & 5. This 11-piece band is famous for its authenticity and upbeat performances. Oktoberfest guests over the years have participated in FREE contests including Log Sawing, Steinholding, and Beer Pong and this year there will be even more opportunities to participate. Burgermeister Bucks and Beer Booklets are available online for pre-purchase.
Special Dates To Remember
American Heroes Weekend, September 13 & 14, 2014
Join us as we celebrate all those American Heroes who put their lives on the line to help keep our Freedoms! Admission is FREE for all Past & Present military, law enforcement and fire fighters and their immediate families.
Local's Night, October 3, 2014
We thank all of our friends and neighbors in the Big Bear Valley for their ongoing Support. Admission is only $5.00 for adults and seniors and FREE for children 12 and under. Stay tuned for more details.
And Don't Forget Our German Spooktacular
The festival closes on Saturday, October 25 with the annual costume contests for both adults and children. The adult contest this year will offer up to $1,000 in prizes. Adult costume contest at 10:00 p.m. and Children's contest at 3:00 p.m. Children in costume get in FREE.
Express Tickteting System
Pre-purchased tickets for the 44th annual Big Bear Lake Oktoberfest on sale this summer!
Be sure to Pre-purchase your Oktoberfest tickets this year and get expedited entry into the event. Guests with pre-purchased tickets receive "Priority Entry". Pre-purchased tickets will be limited this year, so shop early!!
New Ticket Options
Enjoy Oktoberfest for two days for the price of one. New Saturday/Sunday combined tickets are available for the same price as a Saturday only ticket!
NEW: O'DOUL'S COMPLIMENTARY SHUTTLE NOW PROVIDES PICK-UPS FROM VILLAGE AREA
The O'Doul's Complimentary Shuttle has expanded service to now offer pick-ups going to Oktoberfest from the downtown Big Bear Lake Village. The shuttle will begin pick-up service at 2:00 p.m. on Saturdays only and continues to pick-up guests going to Oktoberfest until 6:00 p.m., running approximately every 30 minutes. The pick-up stop is in the Bartlett Parking Lot in the village (Behind the Visitor's Center). The O'Doul's Shuttle will also provide door-to-door service when leaving Oktoberfest on Saturdays beginning at 6:00 p.m.
The Big Bear Lake Oktoberfest provides an excuse to enjoy a weekend away from the stress and obligations of everyday life in a beautiful alpine setting. The festival takes place high in the San Bernardino mountains, approximately two hours away from the greater Los Angeles, Orange County, and San Diego communities.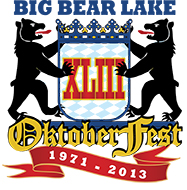 For additional information
log onto www.bigbearevents.com