Big Bear's best kept secret is a little zoo that is doing incredible things! Home to an assortment of bears, snow leopard sisters, mountain lions, packs of wolves and about 80 other species, every resident has a story to tell and all of them start the same; "Without the Big Bear Alpine Zoo, I would not be alive to tell you the story of my life."
by Lorie Judd
The Big Bear Alpine Zoo is a rehabilitation facility offering injured, orphaned and imprinted wild animals a safe haven; temporarily while they heal or permanently if they are unable to survive on their own. The Big Bear Alpine Zoo is proud to be the "go to" facility for injured and imprinted animals. When there is an animal in trouble; hit by a car, injured or confiscated for illegal possession, Big Bear Alpine Zoo is here to help.
Zoo Curator, Debbie Richardson states, "over ninety percent of the animals that are brought to us are released back into the wild, but some of them are just too compromised. For those animals that can't be released, we are able to give them a home for life. Our staff works hard to give the animals lots of care, enrichment activities and attention. I can guarantee you; our keeper staff loves each and every one of these animals and works hard to give them the best life possible. Our collection will always vary, dependent upon the types of animals that need a home and our care. When we don't have enough room for the animal, we work diligently to find another facility that will take them."
The Big Bear Alpine Zoo (Formerly Moonridge Animal Park) opened its doors in 1959 after a devastating wildfire roared through the San Bernardino National Forest. Originally, there were no plans for a zoo, it was simply a safe place for injured animals to rehabilitate and get a second chance to get back in the wild. The original animals in our care, an orphaned black bear cub and two bobcats, were tended to by the workers at the local ski area. The developer of the Moonridge Area of Big Bear, Lois Cady, built the first cages.
In 1961, the facility changed its name to Moonridge Zoo. Alpine animals were sought through the Department of Fish and Game and other local agencies to make the collection interesting. In the early years, the facility was used as a holding area and then a retirement home for several Hollywood movie animal stars. "Tiger Tom," the star of Disney's Charlie the Lonesome Cougar, spent his last years with us.
In the 1980's the zoo became a more professional facility, hiring a manager and the zoo began charging admission to help care for the animals in the facility. Prior to that, with no revenue to support the facility, the care takers relied on an onsite donations box, the local grocery stores and generous donations made by supporters of the zoo and visitors to the zoo to feed the animals.
Reese Troublefield, General Manager of the Big Bear Valley Recreation and Park District tells us, "Today, we are very proud of the zoological facility the Big Bear Alpine Zoo has become. In 2010, 10.5 acres of property was purchased at the bottom of the Moonridge Golf Course, less than a mile away from the current location. The Initial Study has been completed and went to the County Board of Supervisors in March 2014 for final approval. The project is now full speed ahead! Bids have been received for the design of the facility and the next step is to find the contractor that will make our dreams come true with the creation of a new facility that will provide a safe and loving "Home for Life" for animals in our care. The Big Bear Alpine Zoo Mission is to enhance human understanding and respect for the value of the ecosystem through rescue, rehabilitation and education; enhanced by our unique collection of animals that have been permanently impacted by humans and can never be released back into the wild. Everyone involved with the proposed zoo relocation project believes in our mission and we are all looking forward to breaking ground on the new facility in the very near future."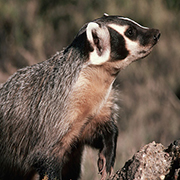 One very important message that our staff would like to get to the public is that each year we are inundated with orphaned animals in the spring. Well meaning people bring in baby raccoons, birds, skunks, chipmunks, and squirrels who appear to be orphans. Once the babies are taken away from their mother, their lives end up in our hands. We almost always end up bottle feeding and with great luck, we are able to teach them to fend for themselves and can send them back into the wild. If that is not possible, the animal will end up in our care. This is certainly not the best choice for a perfectly healthy baby animal or bird. If we are called about the babies first, we urge the caller to leave the babies alone and wait for mom to come back. Most of the time, the parent is off looking for food for their family or taking care of their needs. Imagine the mother's horror when she comes back to the nest or den and her precious babies are gone. Please take the time to observe for several hours before making any move toward a baby. Let them grow up with their siblings and be wild.
We are proud to have a veterinarian technician on our staff to see to the day-to-day medical needs of the animals. They are able to dispense medications and tend to the animals' small needs. We have a quiet rehabilitation area and a medical room where the animals are able to rest and get better. For our veterinarian needs, we utilize the services of the local VCA Veterinary Hospital and their staff or call in specialists. The medical care for all of these animals is quite expensive and is funded by the admission paid to the zoo and generous donations from our visitors. We believe you can't put a price on the life of an animal and do our very best to give them a second chance. There is nothing quite like the feeling you get when you see a healthy bird soaring away or an animal running into the wild, back where they belong. The amazing staff of the Big Bear Alpine Zoo does everything possible they can to make sure this happens as often as possible!"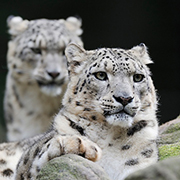 In June 2014, we were the proud recipients of two beautiful snow leopard sisters, Asha and Shanit, born into the Species Survival Program at the Woodland Park Zoo in Seattle, Washington. These beautiful snow leopards displayed health concerns early on; a diagnosis of a relatively rare congenital eye anomaly. Ultimately, Asha and Shanti would develop functional vision only in their left eyes. The girls both exhibited multiple ocular coloboma which is a relatively rare congenital eye anomaly affects both human and non-human animals in which the eye stops growing before it is fully developed. This left the girls each with functional vision only in their left eye, and ultimately each had their right eye removed to prevent infection and future complications.
Working with the Species Survival Plan (SSP), a collaborative effort to manage species populations across conservation zoos, Big Bear Alpine Zoo was chosen to be their new home that would fit Asha and Shanti's unique needs. Asha and Shanti will be able to remain together and continue to receive specialized medical care. Looking into Asha's and Shanti's eyes, one's initial sadness is quickly replaced with wonder and amazement at their zest for life. Every day is a new adventure on their journey to inspire us to learn, care and act to save their counterparts in the wild.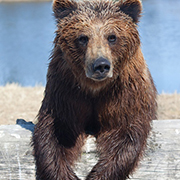 One of the more popular residents currently at the zoo is a family of grizzly bears. Grizzly bears are solitary animals so the fact that we have a family of bears is news worthy. In 1995, a three strikes nuisance bear was scheduled to be euthanized. She had raided campsites, bluff charged people and she was teaching her cubs to do the same. She was relocated three times and she kept returning, exhibiting the same behaviors. The only option was to find a facility willing to take the family of bears and keep them for the rest of their lives. It only seemed fitting to try to give these beautiful bears a home in Big Bear Lake, where they once freely roamed. The Friends of the Big Bear Alpine Zoo launched a six week fund raising campaign and donations came in from local businesses, families all around the world and organizations. Woodland Park Zoo held them for us while the enclosure was constructed. They arrived in 1996 when the Mother, Tutu, was almost 13 years old and her adorable babies were approximately 6 months old. They are full of life and fun antics. This amazing family of grizzly bears has entertained the guests to the zoo since their arrival. Ayla is our young female, but she is bigger than her mom because she has had good food all her life and plenty of it! Ayla is a little more independent than her brother, and probably a little smarter. Ayla sat back and watched as Harley and her mom explored their new home and tested the electric fence. She clearly decided she did not need to touch it herself.
The impressive male grizzly, Harley is a gentle giant and very much a mama's boy. The first time we introduced the trio to coconuts, Harley was the one that figured out how to open them. He keeps the largest piece for himself, but always shares with his mother and sister. Our staff loves to introduce the grizzlies to appropriate enrichment activities and along with the coconuts they love, they are big fans of pomegranates, honey, and molasses.
We are very happy to have this beautiful family of grizzly bears at our Zoo. They are a joy to observe, but even more importantly, Big Bear was named after them. Grizzly bears were hunted to extinction in the early 1900's by the early miners who inhabited the valley, so it's nice that they have finally come back home where they belong. They are the only family of grizzly bears together in captivity in all of California, and possibly in the U.S.
The zoo is chocked full of animals with stories similar to the grizzlies. Currently on exhibit, you will find all of the animals that live in the San Bernardino Forest and a few more; black bears, mountain lions, two large packs of wolves, coyotes, fallow and mule deer, porcupine, bobcats, foxes, eagles, an assortment of owls and large birds, opossums, raccoons, sandhill cranes, snakes, reptiles and much, much more.
The zoo is open daily from 10:00 am through 4:00 pm and is located at: 42385 Goldmine Drive, Big Bear Lake, CA, right across the street from Bear Mountain Ski and Board Resort. Each day at noon there is an animal presentation done by one of our keepers and between Memorial Day and Labor Day there is a feeding tour everyday but Wednesday at 3:00 pm.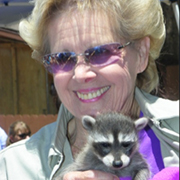 If you want to know more about
the facility and the animals in their care,
check out our website: www.bigbearzoo.org
and be sure to "Like" us on Facebook.
Zoo Curator, Debbie Richardson

---
BIG BEAR ALPINE ZOO
909.584.1299
www.bigbearzoo.org
42385 Goldmine Drive, Big Bear Lake
General Admission: Adults 10-61 $12 / Children 2-9 $9
Seniors 60+ $9 / Children Under 2 FREE