Owner Helps Vets Get and Run Their Own Burger Outlet
by Bill Koelzer
Air Force veteran Richard Brown, owner of Biggie's Great Burgers & Shakes on South El Camino Real near Ralph's Grocery, loves both his work and helping other military veterans get ahead in life.
In 2014, the Orange County Register named him one of the year's 100 "Most Influential Persons" in the county. Why? Because with over 50 years' experience, Richard got out there and started a new program that makes it easy for veterans to own, and effectively run, their OWN virtual clone of his highly successful and profitable local Biggie's Burgers­—anywhere in the country, This new great opportunity comes through Sunrise Warriors, which trains the veterans to mimic the clock-work precision Brown has perfected over a lifetime of innovation in the business.
After thoroughly training here locally at Biggie's Boot Camp and in a live environment, the new VBOs (Veteran Business Owners) take those skills back to their home towns and open their doors with the help of Sunrise's opening crew. Sunrise Warriors walks the newbie through every operational aspect of their new business, from financing through personnel, promotion, equipment, selecting materials, food sources, customer/community relations and more.
Richard Brown's background in the restaurant industry is extensive. As a youth, he worked at his dad's restaurant in Oakland. "That's all I ever wanted to do was have my own restaurant" Richard says. When he joined the Air Force, Brown was the one in the dangerous back end of Boeing KC-135 and Boeing Strato-tanker refueling planes as he delicately directed the hose in the path of B52's being aerially refueled.
In 1962, he opened the first Taco Bell and began building his food service skills, being TB's fifth employee and owning his own franchise unit in Westminster. He became a Taco Bell Operations Manager; then, after 20 years, retired, took it easy and went sailing, but missed the action.
Brown says, "Military men and women have learned leadership skills and the ability to follow specific directions every single time. If we teach a vet to always place a spatula in location X, he or she is far less likely than most to place it in location Y." That's the main reason he's targeting veterans—"They learn and master critical routines faster," Brown adds. However, he also points out that patriotic non-veterans may also enter the Sunrise Warriors program.
Judi, his lovely wife of 30 years and a South Carolina-born girl, is very active in the administrative part of the business, working many years alongside Richard in the unit. Biggies Burgers benefits from having loyal, long-term employees including General Manager Gregorio Bonillo, 23 years, and brothers Ernesto and Fabin Lopez, over 11 years each. Modern Internet tools are helping Brown remotely monitor live video of the daily operations of his San Clemente Biggie's. Four interior views of the unit are displayed on the quad-screen monitor on his desk or on his cell phone. This technology lets him swiftly identify issues, if any, and allows for faster resolutions of any problems he sees. Veterans in the Sunrise Warriors program will enjoy the same remote monitoring—an asset to their operations and profitability.
With a handful of Sunrise Warriors locations in the works now, Brown says, "We target opening 30 successful units nationwide within 12 months after opening the first one."
A Congressional Bill to let vets use the GI Bill to start a business passed a Senate hurdle in July, with growing bipartisan support in Congress and backing of major veteran organizations. Veterans abound in Sunrise Warriors: Rich Naumann, Executive Vice President, an ex-Air Force Captain flew C-130's in Vietnam. His background includes financial consulting for major corporations, startups, teaching MBA classes and being a realty broker.
Jim Douglas, Director of Operations, has a thirty year background as a Franchise Consultant. He was Director of Operations at Jim Dandy Fried Chicken, a subsidiary of Marriott services and Church's Fried Chicken and worked alongside with Richard Brown as Director of Operations at Fatburger. Incidentally, Jim was a star basketball player at the University of Memphis from 1967-1971, scoring 1000 points while attending the university. He also played in the East-West All-American Basketball game in April 1971.
Additionally, Bonnie Silver supports Sunrise Warriors as a boots-on-the-ground liaison for the military and sharing this great opportunity with transitioning Veterans. As an Army Veteran she served over six years with a tour in Korea and a deployment to Southwest Asia. Terry Schlossman is the Marketing Supervisor and Marine veteran. Bill Koelzer, a Navy veteran, is the PR Director.
Sunrise Warriors seeks veterans who want to own their own Biggie's Great Burgers and Shakes, quick service restaurant in their hometown, with the associated economic and lifestyle opportunities. Applicants can learn more by calling 949-366-5259, visiting SunriseWarriors.com or emailing info@SunriseWarriors.com. Financial assistance may be available.
Prospects are also welcome to meet with Richard Brown and any of their staff, as well as get a tour of Biggie's Boot Camp located at the HQ office at 1448 N. El Camino Real in North Beach, San Clemente. We are proud to announce, Purple Heart Recipient Bobby Henline (U.S. Army Ret.), as our first veteran to open his restaurant in the fall of 2015 in San Antonio, Texas.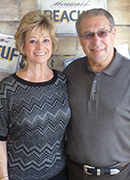 Richard & Judi Brown
Biggie's Burgers
1017 So. El Camino Real
San Clemente
www.biggiesburgers.com