Lake Sport Rentals & Eco-Friendly Lake Tours
Captains John's Fawn Harbor & Marina is the perfect location to relax by the beautiful Big Bear Lake. Whether you rent a boat to explore the lake, take our guided tour, paddle around the harbor or just relax lake-side we have something to fit every ones needs.
---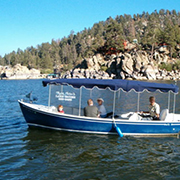 Boat Tours
Regularly scheduled 2 hour lake tours are perfect if you want to enjoy the outdoors, learn about Big Bear history, and discover little known secrets about the mountain lake resort. Each Captain shares his or her unique experiences and stories–making each trip unlike any other. Because our focus is to provide a memorable voyage, each tour is limited to 12 passengers which means you will be in an intimate setting and enjoy the chance to converse with each other and the guide. You won't find a crowded noisy experience on board–quite the opposite.
---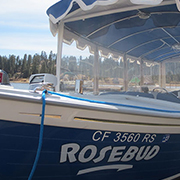 Boat Cruises
A lake boat cruise is a private affair geared toward couples or small groups who are seeking a different way to spend time with family or friends. Available by reservation only, Captain John's has several different options. Catering is available by direct arrangement with one of our preferred vendors, so don't hesitate to contact them or feel free to find other options suited to your taste. The 2 hour Big Bear lake boat cruise is a popular choice for family celebrations such as birthdays, anniversaries or quality time away from distractions.
---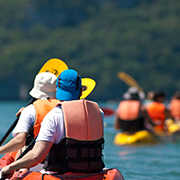 Nature Tours by Watercraft Vessel
Choice of Watercraft Vessel, Sundays, Noon-2:00pm
Captain John's Fawn Harbor & Marina is located in a nature reserve where you can enjoy the peaceful environment and relax on the open water while enjoying the scenic views, birds and other wildlife. Choose a stand-up paddleboard, canoe or kayak and embark on a nature tour guided by one of our staff members. Call us for more information.
---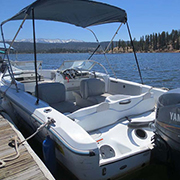 Boat Rentals
Our extensive selection of Rental Boats are awaiting your arrival. Please call for group, overnight, after hours and weekly boat rental pricing.
Duffy Electric Boats (8-10 Person)
Bass Boat (2-4 Person)
Deluxe Tripoon (8-10 Person)
Large Pontoon (10-12 Person)
Speed Boat (4-6 Person)
---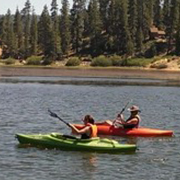 Kayak Rentals
Cruising around Big Bear Lake in a kayak let's you "feel" the lake and get closer to nature. This is why Captain John's Marina recommends watercraft sports as a relaxing social activity. (1-2 Person)
1 Hour = $20
2 Hours = $35
3 Hours = $45
4 Hours = $55
8 Hours = $85
---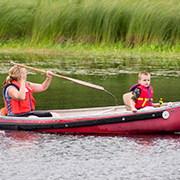 Canoe Rentals
Touring the lake surface in a canoe gets you closer to nature and is a relaxing alternative to your normal exercise regime as well as a great social activity. (1-2 Person)
1 Hour = $20
2 Hours = $35
3 Hours = $45
4 Hours = $55
8 Hours = $85
---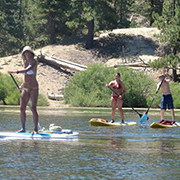 Paddle Board Rentals
Stand-Up PaddleBoarding is the hottest new craze taking over the water sports because it is easy to learn but and a great core workout as well.
1 Hour = $25
2 Hours = $40
3 Hours = $50
---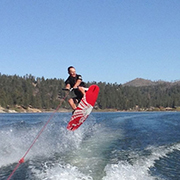 Wakeboarding
Whether you need lessons and equipment or just need a boat to tow you and your friends around Captain Chris can accommodate all your needs.
(2 people or more)
1 Hour = $175
---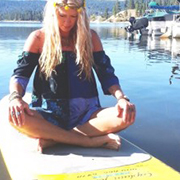 Paddle Fitness
Paddle Fitness classes and clinics at Captain John's are perfect for water sports enthusiasts. These stand-uppaddleboard classes will help you get fit and increase your skill and flexibility at the same time. Call for reservations and for information on custom sessions.
1 Hour = $25
2 Hours = $40
3 Hours = $50
---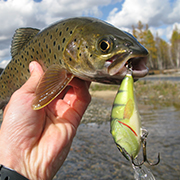 Fishing Charters
Your guides are Mike and Trish Marzell, the only professionally licensed husband and wife charter fishing guides on Big Bear Lake.
Half Day / 3 hours
1 to 4 persons = $275
5 to 8 persons = $350
9 to 10 persons = $400
Full Day / 5 hours
1 to 4 persons = $400
5 to 8 persons = $475
9 to 10 persons = $550
---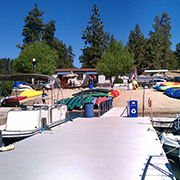 Dock Services
Repairs and Maintenance
• Dock / Gangway Adjustments
• Pole Recovery
• Refurbishing
• Extensions / Additions
• Removal & Disposal
• Demolition of Dock
• Dock Floats Repair
---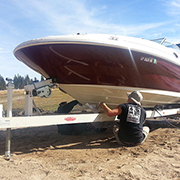 Boat Services
Repairs – Maintenance – Storage
• Boat Storage
• De-winterize
• Launching
• Tune-Ups & Oil Changes
• Winterize
• Shrink Wrapping
---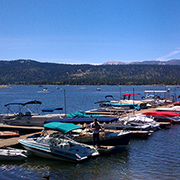 Slips / Moorings
(Nightly, Weekly, Monthly or Seasonal)
Being a small Marina offers so much more for our Slip/ Mooring holders than just a place to keep your boat during the summer. Become a member and be a part of our exclusive members only events. With our personable staff you will feel like you're part of the family.
---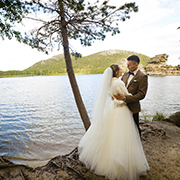 Special Events on the Lake
A venue for all your events!
• Weddings
• Birthdays
• Anniversaries
• Picnics
• Company Gatherings
• Fund Raisers and More…
---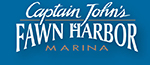 fawnharbor.com
39369 North Shore Drive #350, Fawnskin CA 92333
(909) 866-6478 or (909) 366-5109