Cruises Departing from Long Beach, California
BAJA MEXICO – CARNIVAL IMAGINATION
3 Days from $179
MEXICAN RIVIERA – CARNIVAL MIRACLE
6 Days from $429
HAWAII – CARNIVAL MIRACLE & CARNIVAL JOURNEYS
15 Days from $1349
---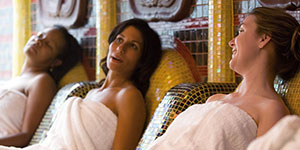 SPA CARNIVAL
When it comes to complete relaxation from the inside out, nothing beats a trip to the spa. From the minute you step inside, the soothing ambiance begins to work its magic. Renew yourself with premium beauty and wellness therapies, like hot stone massages, aromatherapy or full-body wraps. This is your time to be spoiled, indulged and even beautified. Lie back, close your eyes, and feel the stress sail away as your body and mind experience total tranquility. (Oh yeah, and this feel-good stuff isn't just for the ladies — dudes, there are plenty of treatments on our menu for you too.)
---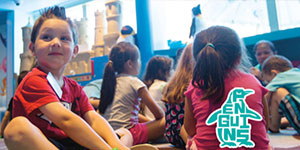 CAMP OCEAN
When families cruise Carnival, even the smallest fish in the pond have a big, awesome time. Okay, so it's actually way more than just a pond — it's Camp Ocean. At Camp Ocean, 2–11 year-olds stay busy, keep active and have fun as they enjoy all new ocean-themed activities and entertainment made for kids. We put campers into supervised, age-based groups and give each a cool marine-life label that's sure to raise the sails on camaraderie at sea. The littlest little ones — ages 2 to 5 —join the Penguin colony and engage in activities like Musical Icebergs and Ocean Bingo… even learning a thing or two about buoyancy! The little-biggers, 6 to 8, are the way-cool Stingrays, who might be found enjoying Pirate Game Night, making sea salt art or even designing their own aquarium. The big fish are the Sharks — ages 9 to 11 — who really sink their teeth into playing Marine Life Trivia, creating a giant ocean mural, and scoring big with sea-themed volleyball or soccer. Our counselors, each with education or childcare experience, are there to make sure everyone in these small groups has an amazing time.
---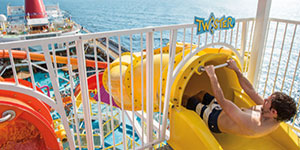 WATERWORKS
Wanna splish — and splash — the day away? Head on over to WaterWorks, Carnival's onboard waterpark. First up, there's the Twister Waterslide, hundreds of feet of spiraling awesomeness that starts you off high in the air and gets you down low with one of the fastest, wettest rides you'll find anywhere. Select ships have side-by-side racing slides, which make serious competition seriously fun. Wear your speed suit for Speedway Splash, which features hundreds of feet of racing action, plus special lighting effects you'll experience on the road to victory. DrainPipe ends with one major swirl of a finish, while PowerDrencher takes soaking seriously — imagine the biggest bucket of water you've ever seen, raining down on you from above. And this isn't just kids' stuff — the young at heart are encouraged to zoom and splash around too! (WaterWorks configurations vary by ship.)
---
SEADAY BRUNCH
Forget what "they" say — the most important meal of the day is brunch. Slumberers can sleep in and still enjoy breakfast favorites, while early-risers get a head-start on lunch. And Seaday Brunch brings everybody's favorite mid-morning meal to your Carnival cruise, and does it right. You'll enjoy huevos rancheros, special french toast, loaded mac-n-cheese… and yes, more ways to cook eggs than we even thought was possible. Chow down and fuel up — you've got lots of exploring to do, across the ship, for the rest of the day.
---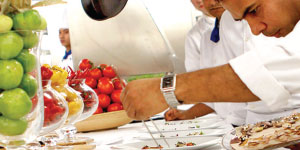 THE CHEF'S TABLE
Treat your taste buds to the experience of a lifetime, culminating in a sumptuous multicourse dinner hosted by one of our master chefs. Your VIP experience starts with cocktails and hors d'oeuvres for a select group of 14, followed by a tour to see the galley in operation. The evening concludes with a mind-blowing full-service dinner of amazing appetizers, entrees and desserts not found on our regular dining menus. Tip: Reserve early because this once-in-a-lifetime experience has limited seating. Reservations can be made at the ship's Guest Services desk.
---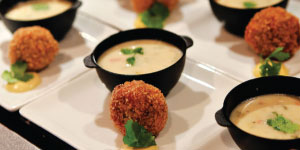 THE TASTE BAR
A voyage to new destinations is the perfect time to try new things… and here's the perfect place: The Taste Bar. Stop by for a taste of the flavors awaiting you at dining venues across the Carnival fleet. Pick up a complimentary appetizer before dinner for a taste of something different.





BOOK YOUR CRUISE