Surfing is not just a sport, it's a lifestyle…
Our mission is to provide young people with a safe, creative, and fun surf experience. Cola's Surf Camp recognizes that each child is an individual; that all children are creative; that all children need to succeed. Therefore, Cola's Surf Camp respects the individual needs of children: fostering a caring and creative environment.
17 Years In Business And Over 3,000 Kids!
Each morning, your child will be met by Cola's Surf Camp's experienced instructors. Your child will receive instruction in ocean safety and surf etiquette. In addition, surf campers will learn about ocean science topics, such as waves and tides, marine biology, coastal ecology, and beach profiles. Stand Up Paddling is back but will require optimal conditions for demonstrations and lessons during camp.
Come join the fun and build new memories!
Space is limited.
---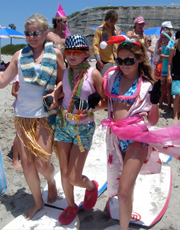 Full Week Camps
Students meet on Monday mornings at 9 am. The day will begin with introductions to the staff and other students. Each participant will be able to check out a wetsuit to borrow for the week and will receive a complementary rash-guard to keep. After introductions, students will be placed in small groups with friends and siblings, if they choose. But, not to worry, if solo, they will be quickly introduced to a whole new group of friends. Once in groups, participants will rotate through surf instruction, body-boarding, and beach/ocean activities.
The week commences with a pizza party on Friday afternoon. Goodies bags will be distributed and photos will be available for purchase.
Sessions Weekly from July 5 – August 5

Monday – Friday from 9:00 am-3:00 pm
Cost: $375 full week / child


---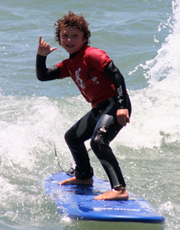 Drop-In
Drop-in days are a great alternative to the full week if the summer schedule fills up with other fun activities. Choose just one day or a series of days! We can work with your schedule. Drop-in students will be able to check out
the wetsuit for the day and will also receive a rash-guard; both to be returned at the end of the day. Drop-in days are available, during the weeks in operation.
Sessions Weekly from July 5 – August 5

Monday – Friday, 9:00 am-3:00 pm (space is limited)

Cost: $80 full day / per child



---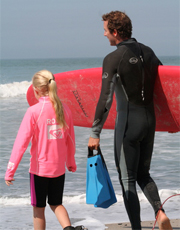 Private & Group Lessons
Private lessons and events are available through Cola's Surf Camp. We provide all of the equipment to suit your needs: body-boards, soft-top surf boards and SUP's. We can meet at most location in the San Clemente/Dana Point area.
Call 949.547.6203 (By appointment only)
Cost: $100 per 2 hours/ single;
$75 each additional person.

---
What does my child need to bring to Camp?
Campers should bring a towel, hat, sunscreen (apply 30 minutes prior to camp), long sleeve shirt, a change of dry clothes and a sweatshirt for cool mornings. All personal belongings should be labeled and brought in a backpack (also labeled). You can purchase some items, such as sunscreen, prior to the first day of camp.
Is it safe?
Mitch Colapinto has been a lifeguard for 23 years. Every year he is required to attend a two day, first-aid training and must be re-certified in CPR. It is required that all full-time staff are trained in CPR and first-aid and keep their status current. We maintain a 1:5 instructor to camper ratio and require that a member of our staff act as a lifeguard at all times. In addition, during most hours of operation, an Orange County lifeguard is on duty from 10 am to closing.
What is the Instructor to student ratio?
There is one instructor for every five students.
If I carpool, may I have someone else drop of my child/children?
Yes, please provide a note and have the driver picking up your child sign out at the end of the day.
Where can I park?
Metered parking is available on Camino Capistrano.
May I observe my child?
Parents are welcome to observe their child on Fridays. We recommend that parents do not come everyday as, we have found, it takes away from their own child's experience. Of course, you are always welcome and we do encourage parents and family members to join their children on the last day of the week to take pictures and video.
Do I need to pack a lunch for my child?
You will need to provide a lunch for your child Monday through Thursday and if you you signed up for a single drop in on those same days. All participants will be able to enjoy Friday pizza. A local deli also provides a sack lunch for a fee. More details are provided in our e-mail updates.
Will my child be grouped with friends?
Campers will be grouped with siblings and/or friends the first day of camp. If they are attending for a single day they will integrated to one of the groups.
Does Cola's Surf Camp have permits?
Yes, Cola's surf camp is fully insured and licensed and obtains all of the necessary permits required by the State of California and local agencies.
Are there any prerequisites?
Yes, your child should be able to swim two lengths of a pool unassisted.
Camps run from July 7 to August 15
Drop in days are available Monday-Friday each week in operation. The times are from 9am to 3pm and your child or children will take part in all surfing and group activities. Choose just one day or multiple days all summer long.