DELUXE INDULGENCE… You deserve it, don't you? You can find it at Four Seasons Hotel Westlake Village, located a lot closer to your dreams than you can imagine. Come see it and feel it firsthand.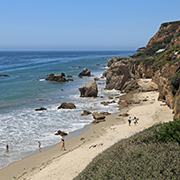 Why not explore Los Angeles from the outside-in? From a sunny, verdant getaway that lends you all of the city's best, but without the distracting congestion of the city? From the fresh perspective of Four Seasons Hotel Westlake Village, located just 30 minutes north of L.A., and absolutely one of the most incredible destinations you can ever find your way to.
Not to worry—if it's tourism you're looking for, the museums, Hollywood Blvd. and theme parks are all easily accessible from this convenient location just off the 101 Freeway. Yet you can also revel in the world-famous beaches of Malibu, enjoy outdoor sports like golf, hiking and biking, or visit the mountains of Santa Monica, all of which are breathtakingly close to Four Seasons, winner of the AAA Five Diamond award for hotels each year since its opening. Ideal for a romantic couple's getaway, one of the most recognized features of the hotel is the Four Seasons Spa—the largest and most luxuriant of all the company's hotels worldwide—one of the best spas in America, according to Condé Nast Traveler.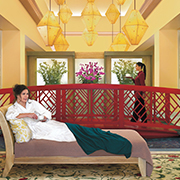 Here, 28 luxury treatment rooms, including four suites decked-out for celebrities and VIPs, set the tone for relaxing treatments and facials with bamboo floors, onyx-accented ceilings and French doors opening to private garden walls. Orchid-filled relaxation lounges, eucalyptus steam rooms, mosaic tiled whirlpool areas and the outdoor serenity pool (adults only, by the way) create a calming haven for reconnecting. Each of the four spa suites accommodate couple's treatments with two massage tables, a daybed, private patio with plunge pool and chaise lounges, and a Whirlpool tub en-suite. Groups are welcome, too. Suites can also be reserved for bridal showers and any other intimate celebratory gathering.
From rejuvenating massages to treatments such as the Lavender Milk and Honey Cocoon that nourish the body, the menu here is comprehensive and varied to suit any visitor. (Star tip: The DNA Exfoliating Growth Factor Facial, exclusive to The Spa at Four Seasons Hotel Westlake Village, is fast becoming the "go to" treatment for celebrities looking to go straight from the spa to the red carpet!)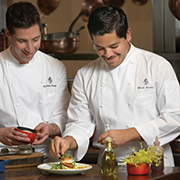 After relaxing at The Spa, dining options abound. The indulgent Farmers Market weekend breakfast is the perfect wake-up after a long, restful night of sleep. On Saturday evenings, Four Seasons chefs can be heard singing "Hey Mambo!" while they hand-toss fresh pizza dough or slice Italian meats at the salami station during Mercato Italiano, an interactive display of culinary talent and traditional favorites. In ONYX, Chef de Cuisine Masa Shimakawa oversees the inventive, modern Japanese menu in addition to slicing and dicing at the sushi bar.
Smoothies, salads and sandwiches are served poolside and the bar is always a happy gathering place to grab a burger and beer while watching the big game of the week or for playing a friendly game of pool. The Champagne & Jazz brunch is offered on Sundays with live music on the waterfall lawn, and Friday's Seafood Sensation creates a stir each week. In the heart of the hotel, the lobby lounge serves breakfast, lunch and dinner throughout the week.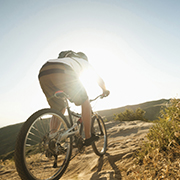 To offset some of the irresistible indulgences above, exercise classes including group cycling and yoga (complimentary for hotel guests) are offered in the 16,000-square-foot fitness center. Rivaling most private clubs, the fitness center offers more than 20 cardio machines with private entertainment systems as well as the latest circuit, free-weight and other top-notch workout equipment.
Families find a host of activities to stay busy. Kids of all ages make a splash at the indoor family pool, and an activity lawn is nestled amongst the gardens, complete with horseshoes and mini-golf on a putting green manicured to replicate the outline of the state of California. Nearby attractions such as the Ronald Reagan Presidential Library & Museum are waiting to be explored. The hotel is also offering a new "Room and Board" overnight package that includes surf lessons at nearby beaches, arranged by a specialized concierge who can also offer tips on the day's fast break.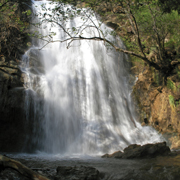 On property, spacious guest rooms feature signature Four Seasons beds and marble bathrooms with separate soaking tubs and showers. Depending on the room, your floor-to-ceiling windows might overlook the cascading waterfall, or an authentic Chinese pagoda, colorful rose gardens, the Santa Monica Mountains or scenic Simi Valley Foothills. A popular and lavish venue for special events, wedding parties are often spotted taking photographs among the gardens before an elaborate reception in the Grand Ballroom.
Regardless of your reason to visit Four Seasons, it defies all reason that you wouldn't. Come see it and feel it firsthand. You definitely deserve it.

For more information or reservations at Four Seasons Hotel Westlake Village,
visit www.fourseasons.com/westlakevillage, or call (818) 575-3000.
Rates start at $225/night for superior accommodations.