Dental procedures that traditionally take 2-3 visits to a dental office can now be completed is just one visit. Dr. William Capobianco, D.D.S. is able to use state of the art computerized imaging and manufacturing to make custom tooth colored ceramic crowns and onlays in his office usually in 20 minutes to an hour. This eliminates the need for uncomfortable temporary crowns, weeks of waiting for a laboratory to make the crown, and a second visit with additional anesthetic to fit the new crown. Eliminating the need for additional visits and additional anesthetic injections is a huge advantage especially for dental phobic patients.
Most dental restorative methods require more than one visit to the dentist. This means that on the first visit, the patient gets an anesthetic injection, the tooth is prepared, an impression is taken and sent to a lab, and a temporary restoration is placed in the mouth. The temporary crown is often uncomfortable and can come off resulting in additional discomfort and office visits. A second appointment is made a of couple weeks later. The patient gets another numbing injection, the temporary is pried off and the permanent restoration placed. Why go to the dentist a second time when it is not necessary?
There is something about the nature of dentists that draws them to new technology. But while high tech tools look and sound amazing at first, many turn out to offer little toward helping patients. Dr Capobianco's approach has been to wait for technologies to mature and prove themselves before incorporating them into his practice.
Since 1985, CEREC has remained the preferred CAD/CAM (computer assisted design/computer assisted manufacturing) technology of dentist worldwide for the fabrication of all ceramic dental restorations. CEREC has been clinically proven to produce outstanding, long lasting, natural looking restorations. Rather than taking an impression and sending it to a lab Dr. Capobianco will take a series of digital photographs of the teeth. These images are converted to a 3D computerized model which he will use to design your custom restoration. The restoration is them milled at his office from a variety of ceramic materials that closely match the composition and color of natural tooth structure. Dr. Capobianco will then add individualized characterization and glaze the new restoration so that it mimics the natural teeth. Dr. Capobianco has complete control over the entire process. The new restoration is now ready to bond permanently.

---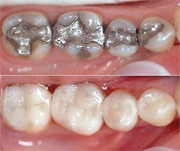 BEFORE & AFTER
This revolutionary CEREC technology can not only save time and hassle with temporary restorations, it also allows Dr. Capobianco to be more conservative. Because these restorations are bonded to the teeth he won't have to remove extra tooth structure to make it so the crown will stay on. Saving as much healthy tooth structure as possible will help keep the tooth as strong as possible.
---
Dr. Capobianco can use CEREC metal free ceramic restorations to repair chipped, discolored and decayed teeth. The benefits of CEREC restorations include:
Ceramic crowns and fillings completed in one office visit.
Minimization of painful injections.
Natural looking tooth colored restorations.
Conservation of healthy tooth structure.
Elimination of temporary restorations.
Metal free, biocompatible porcelain restorations.

Dr. Capobianco completed both his undergraduate education and dental education at the University of California, Los Angeles. He grew up in Laguna Beach and has practiced in San Clemente since 1992. Dr. Capobianco is a member of the American Dental Association, California Dental Association and the Orange County Dental Society.


William Capobianco D.D.S.
949.443.2404
675 Camino De Los Mares, Suite 303
San Clemente, CA 92673