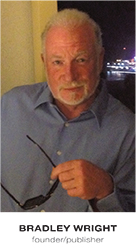 A few years back, I remember coaching a young kid named Andrew Frohner in Pop Warner Football. Andrew had never played tackle football and was one of the smallest kids on our team.
They have a rule in Pop Warner: Each child must receive a minimum of 10 plays per game. That's approximately the amount of plays Andrew was receiving at the time. Andrew's outlook was always consistently positive, and he played hard every single down, including drills in practice. He ran out every wind sprint and gave his all.
Rather than be ruffled by his limit of 10 plays per game, Andrew always had this irresistible smile on his face and tried as hard as he could for however many plays he received.
One day, after we moved him from defensive line to defensive backfield, he said, "Coach, I don't care how many plays I get. I just want to practice and get better."
Well, better he got! Andrew and my son Tanner are now the starting safeties on the San Clemente Tritons Varsity Football team. They just went 12-2, won the Seaview Legue Championship and played for the CIF Southern Section Championship. They leave nothing behind in their games except for skin and a little blood. Aside from my son, I couldn't be more proud for Andrew Frohner.
The classic example of Andrew's football evolution was the game against Trabuco Hills on October 30, 2014, at Tallahassee Stadium. Andrew already had two game-saving interceptions, one of which he absolutely STOLE from Division 1 Oregon Commit, a wide receiver named Jacob Breeland, in the end zone. He also had to steal from the zebra. Thank God for the white hat making the right call.
Jacob Breeland is someone we may very well see play on Sundays in about six years—the real deal. Here's how Breeland is described by recruiting reports: "Given his 6'5" 205lb frame, a future at tight end is probably in the cards for Breeland. He has the frame to build on and already displays impressive physicality in traffic and near the line of scrimmage." Indeed, Breeland possesses deceptive downfield speed, presenting matchup issues for linebackers. Formidable size and reach give him an edge on elevated passes against defensive backs.
OK, so rival that with my scouting report on Andre Frohner: "Gutsy, scrappy, 160lbs in a rainstorm, 5'9" and possesses good speed along with high football intellect."
So just visualize this match up!
The Tritons are leading 42-35 with moments left in the fourth quarter. The Trabuco Mustangs are driving down the field as the Trabuco QB hits Breeland on a short route… sending Breeland off to the races and the tying touchdown that will force overtime. Andrew comes up from the backfield and unloads his 160lbs on Breeland, helmet-to-chest at about the five-yard line… Breeland's size and strength forcing Andrew backward toward the goal line as Andrew grabs, scratches, claws, pulls and gets a hold of Breeland's jersey, dragging him down and stopping the Oregon recruit on fourth down at the one-foot line.
Tritons win!!!! TRITONS WIN!!!!
Listen, we have a great team but we couldn't have won the game that evening without Andrew Frohner on the Tallahassee Football stadium field. Now that's football evolution created through heart and attitude. Go Tritons.
One Team, One Town… One Town, One Team.
Andrew worked hard and stayed the path. He is the kind of kid that when he smiles, he makes faces light up. When he becomes a man out in the world and pats you on the back, he'll make you feel like a million dollars.
So now just a slight shift in storyline here…
I'd like to share one of my fondest childhood memories.
The first time I ever saw my dad in a cowboy hat, he'd just returned from a small mountain community to our home in Los Angeles. My dad was a tall, dark and handsome man, and he came through the door looking like John Wayne himself!
Then he took his hat off, sat it on my head and he said we were moving to a place called Big Bear Lake.
That Friday, our family left at 4 in the morning. When I woke up in the back of our station wagon, my eyes had to adjust to a mystical white substance outside the windows as the sun glistened through the rocks in Boulder Bay. That was the first snow—and first lake—I'd ever seen.
It was Big Bear Lake. And I would spend the rest of my childhood on that mountain.
You can take yourself out of Big Bear, but you can't take Big Bear out of you. Even to this day, each time I traverse the hill as I'm approaching the valley, it's as if the pine needles become intravenous and a great spirit enters my bloodstream.
When you grow up in Big Bear, you never stop being "from the mountain." It's an intrinsic part of your soul. There is a tingle that no adjective properly describes… your soul and your roots stay there. I'm sure it must be the same for the folks of Lake Arrowhead and Running Springs.
Some of my fondest memories are the rivalry we had in sports with the Rim of the World School District. We fought like wild boars, but there was always a mutual respect, a bond because we were "mountainfolk." When our teams played the flatlanders, we rooted for them, and they returned the favor.
When you're from the mountains, that's just the way it is.
"Big Bear is a million miles away on half a tank of gas. It's star gazing, downhill runs, shoulder-touch waterskiing. It's where you propose to your sweetheart, and your kid catches their first fish."
The bottom line? Big Bear is cool.
In a sense, I'm back home in Big Bear, at least part of the time now. My goal over the years has been to split my time 50% in San Clemente and traveling the world, and 50% in the beautiful valley of Big Bear Lake. As of this publication date, I'm at about 25% and growing toward my dream.
It all started when Tim McGrath and Neal Warner approached me not too long ago, to serve on the Steve Mihaylo Educational Foundation.
After Tim convinced me it was the right thing to do, my mental wheels began to spin. My dream may just come true. Long story short, we brought our publication to every P.O. Box for the residents and businesses of Big Bear Lake, and have created a section for the local Bear Valley Parks and Recreation District.
We've created a Sea and Ski Partnership we believe will be unique. We hope to bring clever and compelling profiles, and create an editorial environment of community and recreation to residents and visitors alike—many of who hail from Orange County, South Coast and San Diego.
We even coined a term for it, too. "Recreation: The Worthy Use of Leisure Time." No other place exemplifies this phrase like the community of Big Bear Lake.