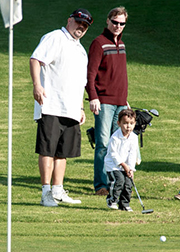 Tiny Tees Golf
Tiny Tees Golf is a program designed specifically for children 3-7 years old and 8-13 years old. The goal at Tiny Tees is to introduce children to the game of golf while having fun. Children will be taught golf course etiquette, full swing, pitching, and putting. The Tiny Tees Golf program not only works on golf skills but focuses on overall coordination. Tiny Tees offers 6 levels based on skill and experience from beginners to advanced (call for exceptions). Snacks and drinks will be provided.
Age: 3-7 years & 8-13 years
Fee: $300
Location: Talega Golf Club, 990 Avenida Talega, SC
M-F – Weekly June thru August – 8:00 am-12:00 pm



---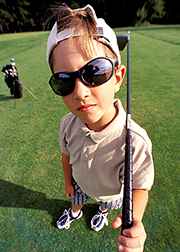 2015 Summer Golf Camp
PGA golf professionals and apprentices will teach you the fundamentals of the game of golf. This program is set up for the rank beginner to the season golfer. All equipment will be provided: golf clubs, range balls, refreshments and snacks and a lot of fun!
Age: 6-18 years
Fee: $350
Location: Talega Golf Club, 990 Avenida Talega, SC
M-F – Weekly June thru August – 1:00-4:00 pm
Golf Camp Schedule:
MONDAY
• Fundamentals of the Golf Swing
• Video Swing Analysis
• Fundamentals of Short Game
• Putting, Chipping, Pitching, Bunker

TUESDAY
• Rules & Etiquette
• Full Swing Practice all Clubs
• Putting, Chipping, Pitching, Bunker Practice
WEDNESDAY
• Rules & Etiquette Test
• Short Game Contests
• Long & Accurate Drive Contests
THURSDAY
• Practice & Warm-up Routine
• Pre-shot Routine
• On-course Practice
FRIDAY
• Warm-up
• 9-hole Tournament
• Recognition & Awards


---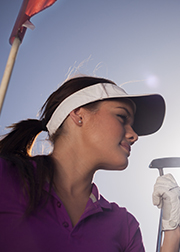 Surf & Turf Camp
This camp combines surfing and golfing—starting each morning with surf lessons at our San Onofre location with professional surf instructors, then afternoon golf lessons at Talega Golf Course with PGA professional golf instructors. After your morning surf session you will head up to nearby Talega Golf Course in San Clemente for lunch then some meet up with your Golf Instructors for an afternoon of golf lessons. Surf & Turf is open to all levels of surfers and golfers, no experience required. It is offered as both a Day Camp and an Overnight Camp. All equipment (surf and golf) is provided, but if you have your own, bring it.
SURF in the MORNING
Surf lessons will be provided at our San Onofre location from 8:00 am–11:00 am. Surf lessons will take place in a small group setting, 3 students per 1 instructor (1st time surfers). Surf equipment will be provided. Instruction will be geared towards all levels of surfers no matter if it is your first time or if you just want to improve your skills.
TURF in the AFTERNOON
Have a great tasty lunch at Talega Golf Club after a beautiful morning at the beach surfing. PGA golf professionals and apprentices will now teach you the fundamentals of the game of golf. This program is set up for the rank beginner to the season golfer. You will be provided with golf clubs, range balls, refreshments and snacks and a lot of fun! Golf Lessons will take place at San Clemente's Talega Golf Course, an 18-hole, par – 72 Fred Couples "Signature" Championship Golf Course with Driving Range. Lessons will take place with Randy Chang and his staff of professionals. The Aloha Section of the PGA of America named Chang the 2003 Teacher of the Year.
Students will be dropped off by parents at our San Onofre location every morning and picked up at Talega Golf Course in the afternoon.
A shuttle will provide transportation from the surf camp to Talega Golf Course. Lunch, snacks, drinks and equipment will be provided.
Ages: 10 years and Up
Fee: Day Package $595 / Overnight Package $1,190
Location: Talega Golf Club, 990 Avenida Talega, SC
M-F – Weekly June thru September – 8:00 am-12:00 pm