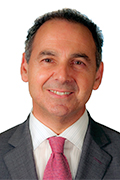 Meet Efrem Harkham, Hotelier Extraordinaire
"Imagination is everything. It is the preview of life's coming attractions," Albert Einstein once said. Indeed, and in many facets of life, it is one's imagination that can make all the difference, isn't it? The imagination of an open mind that conjures up the yet-unseen value, the potential, of any particular thing. This is the type of vision that, along with prowess and determination, equals success.
Consider Efrem Harkham, now a veteran hotelier of more than 25 years. As a young chap, he says he certainly had no intention of working in the luxury hospitality industry. Even having grown up and found significant success in the fashion trade, he was quite happy there as president and CEO of Jonathan Martin and Hype clothing manufacturers. Yet his imagination, his vision, would not let him stop there.
"I came upon the sale of this old hotel on Sunset Boulevard back in 1983," he recalls. "Despite its prime location and unique architecture, no one had been able to make it profitable." That's right, no hotel representation firm, no name-brand franchise partnership—nobody had had any luck. Even after someone's prior attempt with a $12 million re-design, the purchase of the hotel was just plain risky. To Harkham, who only imagined the possibilities, the challenge was on.
After purchasing the property, Harkham aggressively closed gaps in the hotel's management, cutting losses by half within six months and completely eliminating sagging problems within a year. "That initial success really fueled a passion inside me for this industry," he says.
Harkham's solid business savvy and vision led him to purchase yet another hotel, this one on Rodeo Drive, and even motivated him to help other independently-owned properties improve their profitability. "I imagined a hotel management and representation company that would offer hotels the specific, personalized services they couldn't get from the majority of franchise operations out there," Harkham says. That's when he founded Luxe Worldwide Hotels in 1998.
With a management style permeated by his passion for genuineness and proven skill with business growth, Harkham is arguably a pioneer with a global brand, one who has successfully doubled and even tripled electronic bookings for member properties of his representation company.
Born in Tel Aviv, raised in Australia and now residing in Los Angeles, Harkham still travels the world observing and seeking out individually distinct properties to add to Luxe Worldwide's portfolio. Built by a true visionary, Harkham's premiere representation company has selectively acquired a portfolio of nearly 200 independently owned properties in 31 countries, spanning four continents. Imagine all that from the bold purchase of one single hotel site that nobody could see the potential in. Now that's a vision for success.

LUXE Sunset Blvd. Hotel
Where Bel Air meets Brentwood, this hotel location promises all the allure of Los Angeles city, and is located close to Southern California beaches as well as the famous Getty Center. 160 guest rooms and suites include incredibly spacious and luxurious layouts. Float languidly in the outdoor heated pool, stroll the rolling decks or visit the newly opened Sanctuary Spa. Regardless of which part of the property you roam, you will find a pleasant mix of visiting local residents and hotel guests. The Sunday Jazz brunch is scrumptious.
LuxeSunset.com
LUXE Rodeo Drive Hotel
Filled with Beverly Hills glamour, this boutique property offers 86 guestrooms designed to convey a stylish blend of the relaxed Southern California spirit as well as the elegance of Beverly Hills. Its restaurant, On Rodeo Bistro & Lounge, was inspired by the original history of Rodeo Drive, which pays homage to the streets of Paris. As a California-take on the classic French Bistro, On Rodeo presents an innovative menu of signature dishes complimented with farm-to-bar specialty cocktails created by internationally-acclaimed mixologists. The penthouse deck accommodates up to 150 guests for social receptions and celebrations, as well as executive business meetings.
LuxeRodeo.com