Locally Grown
In February, on the historic downtown street of Del Mar, H.H. Cottons opened its doors to the local San Clemente community. Maintaining one of the more high profile corners in the downtown village, the owners took special care to create an environment that would not only deliver on the goal of town founder Ole Hanson to create a historic Spanish seaside feel, but also express the evolution of our town in to a vibrant, relaxed community, that embodies everything that is California. H.H. Cotton's brings a distinctive style complimenting the existing restaurants in the historic downtown marketplace.
Located on the intersection of Del Mar and Ola Vista, "Cotton's" (as the San Clemente regulars have named it) has been embraced by locals and travelers alike. The menu has been designed to reflect diverse tastes, much like the community we serve. That being said, we firmly believe that as the community evolves and changes with the season, so too must our menu. So rest assured there will always be something new to tempt your palate when dining at Cotton's.
Founded by four local friends, all long-time San Clemente residents with 12 children among them, and the operating partner an Orange County native, the vision for H.H. Cotton's was to create a "social gathering place" for San Clemente locals, and visitors alike. Designed by Suzanne Schwartz & Jeff Hertzler, of the noted San Clemente design group RSM Design, our hope is that Cotton's truly becomes an extension of the living room, and that our staff genuinely gets the opportunity to build lasting bonds with the community around them.
Who is H.H. Cotton? When most locals hear the name Cotton's, one might think of the famous surf break Northern Trestles or the "Western White House", also known as the Nixon House which Cotton built. While Ole Hanson, the co-founder of San Clemente, often gets most of the credit, it was actually Hamilton H. Cotton who held the note on the land that made it possible for Ole to realize his dream. It's also a little known fact, that Hamilton was quite the party host, and even hosted President Franklin D. Roosevelt at times during his west coast swing.
A vibrant place to watch the game, laugh aloud with friends, share memories with the family, or simply take in the day from a great "people-watching" seat on our street side patio, Cotton's is a place to blend in. Cotton's offers a full service restaurant with a modern bar, and several flat screen televisions throughout. From our amazing line-up of 28 craft beers on tap, to our signature cocktails, you can always find your adult libation of choice.
The H.H. Cotton's team would like to say "thank you" to our patrons for the positive support to date. We truly value the feedback we have been given and, based on your feedback, we have some exciting new developments already in process (such as our new Happy Hour from Monday through Friday, 3-6 pm).
For more information about the downtown San Clemente restaurant H.H. Cottons, we invite you to like our Facebook page at www.facebook.com/hhcottons, our website at www.hhcottons.com. We also look forward to serving you and being part of the San Clemente community for years to come!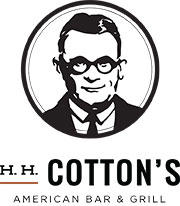 Open 7 Days a Week
(949) 429-3321
201 Avenida Del Mar
San Clemente, California
www.hhcottons.com