Looking to escape the city and check out the new vibe in Big Bear? The recent $6 million facelift, dubbed "The Village Renaissance Project," has transformed the quaint mountain town into a four-season bustling microcosm of food, shops and fun.

---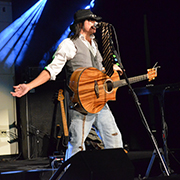 If it's nightlife you seek, check the lineup at The Cave in the Village. Entrepreneur Dave Stone has transformed the old movie theater into a 400-seat concert hall drawing old school acts from all around (think Dan Band). Everything from the sound system to the seating is now state of the art, which is why you'll find great rock, rhythm, jazz and comedy acts performing there nightly. The lobby is draped with old autographed guitars and teeming with personality—you can't miss it.
The Cave
40789 Village Dr., Big Bear Lake, CA 92315
909.878.0500 / www.thecavebigbear.com
---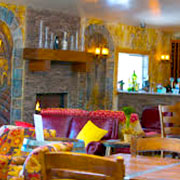 The first order of business when planning your stay in Big Bear is finding the perfect place to lay your head. Another success for businessman Dave Stone is the Wolf Creek Resort he recently renovated. Wolf Creek Resort is seconds from the lift at Snow Summit, and just a stone's throw from Big Bear Lake, Action Zipline Tours and The Village, of course. In-room fireplaces and amenities make this a perfect place to bring the family for a fresh-air getaway.
Wolf Creek Resort
41421 Big Bear Blvd, Big Bear Lake, CA 92315
800.232.7754 / www.wolfcreek-resort.com
---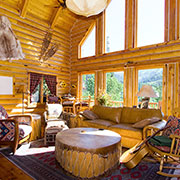 If it's wooded seclusion you seek, or lodges on the lake, you've got to try Gold Rush Resort Rentals. They handle vacation planning, property management and real estate referrals. From lakeside estates to hidden cottages, they've got you covered. You'll be amazed what they can do with any budget.
Gold Rush Resort Rentals
40016 Big Bear Boulevard, Big Bear Lake, California 92315
866.372.2246 / www.bigbearrentalcabins.com
---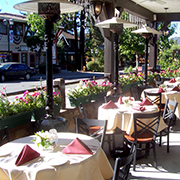 The infiltration of gourmet dining in Big Bear is evident at The Peppercorn Grille. Mike and Julie Hastings have built a restaurant to admire in the heart of The Village. The menu is carefully crafted with appetizers to die for, brick oven pizzas and incredible pasta dishes. Dinner service offers a posh variety of beef cuts and seafood. Call ahead, because there's a line out the door.
Peppercorn Grille
553 Pine Knot Ave., Big Bear Lake, CA 92315
909.866.5405 / www.peppercorngrille.com
---
The options are endless…
You absolutely must cruise The Village and visit all the stores lined up and down the drive—both new and old. Like the Village Sweet Shop, where you can find all your long-lost childhood favorites. Or The Bath Workshop, where you can get a complimentary warm-sugar hand bath. There's the Village Quilt Shop, too, filled with artistic home décor, handmade blankets and unique children's clothing. And if you need something fashionable to wrap up in, the Paisley Boutique is a treasure chest.
Need we say more?