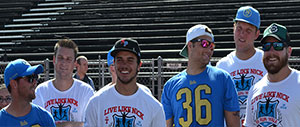 The LiveLikeNick 5k Run/Walk will be held on Sunday, August 28th on the campus of San Clemente High School. This event is open to anyone, of all ages, to participate in a fun and healthy way and help contribute to The Nick Pasquale Foundation and San Clemente High School Athletics. We will be running to honor the memory of Nick Pasquale, an outstanding SCHS student athlete, and UCLA football player, whose life was cut short in a tragic accident on Sept 8th 2013. As we approach the three- year anniversary of his passing, we have an opportunity to show our support for his family and remember the way Nick lived, with a passion for life and a competitive spirit. The proceeds from last year's race were used to fund scholarships for three SCHS student athletes, as well as a flat donation of $5000 to SCHS Athletics, a donation to the SCHS Football Program and the Pop Warner Cheerleaders.
Sunday, August 28th
7:30 – Check in and Registration opens (On east end of football field)
8:30 am – Kids 1 mile run (11 and under), Start on Visitors side of Track
9:00 am – Open Race 5k, Start on Visitors side of Track
PLEASE PLAN ON ARRIVING AT LEAST 30 MINUTES BEFORE YOUR RACE STARTS
Race Results will be provided by EPI Sports and will be emailed to you on Aug 31st. Awards for 1st, 2nd and 3rd will be given to runners in each race, as well as some miscellaneous prizes
Directions
Coming North on the 5 Freeway:
Exit right at Avenida Pico
Go past McDonald's
Enter the main parking lot on the right
Coming South on the 5 Freeway:
Exit Left at Avenida Pico
Go under the freeway
Go past McDonald's
Enter the main parking lot on the right
Parking
Parking is free and will be available in both lots along Avenida Pico. The parking lot on Avenida Presidio will be closed due to the course going through.
~ PLEASE ALLOW PLENTY OF TIME TO PARK AND WALK TO THE STADIUM FOR CHECK IN ~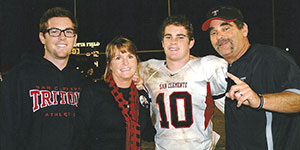 About Nick
Born and raised in the small beach community of San Clemente, CA, Nick Pasquale was a beloved son and brother, as well as a loyal friend. He was born on June 20th, 1993 to parents Mel and Laurie Weber Pasquale and older brother A.J. Pasquale.
Growing up, Nick was a dedicated hard-worker, who inspired others along the way. He was a natural leader with many friends—friendships that stayed with him through high school and college. He was one of those kids who lit up a room and a football field.
From an early age, Nick developed a true passion for football, similar to his dad and brother. However, Nick didn't necessarily possess the physical traits of a football player. When it came to football, he wasn't tall enough, he wasn't big enough, he wasn't fast enough. But on the field, he was more than enough.
Following in his dad and brother's legacy, Nick joined the San Clemente High School's Football Team as a freshman in 2008. Nick started at cornerback on the San Clemente High School's Varsity Team as a sophomore, and was a two-way starter, at cornerback and slot, the next two seasons, including his senior 2011 season in which San Clemente reached the Southern Section Pac-5 Championship.
The 2011 football team was the best in the school's history, and Nick was its heart and soul. He was an all-county player, who did everything he could for the good of the team. As a football player, he sacrificed a lot of his own personal glory for the success of his team. Nick was an offensive player who often played cornerback when his team needed it. He uplifted everybody—he was an awesome kid.
Upon graduating from San Clemente High School in 2012, it was Nick's goal to play college football, and as a preferred walk-on at UCLA, he was finally getting that chance. Nick was listed by UCLA as a receiver who stands 5 feet 7 inches and 172 pounds. Being small, Nick had to work twice as hard as the average football player. Nothing was ever given to Nick—he worked for everything he got, which earned him the nickname "Pacman" by his UCLA teammates. As a freshman at UCLA, Nick went through a redshirt season, but the following season, he was ready to launch his college career.
On Sunday, September 8th 2013, heartbreak fell over San Clemente when news spread that Nick Pasquale was killed in a car accident. Nick was walking home from a friend's house when he was struck and killed by a car. He was 20 years old.