Madlon's Restaurant is a family owned business serving the freshest and highest quality food in the classic
French style. Owners Bob, Nancy, Chelsie and Rob Orr strive to offer a memorable, fine dining experience to
every guest on every occasion. As Le Cordon Bleu trained chefs, Rob and Chelsie place quality above all
else as they prepare every menu item to order from scratch.
Nestled in Big Bear City, just minutes away from the mountain resorts and shopping in the village, Madlon's provides a getaway like none other on the mountain. With an extensive list of imported beers and fine wines to compliment your meal, Madlon's will be the highlight of your visit to Big Bear.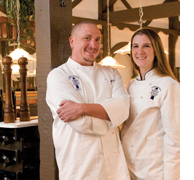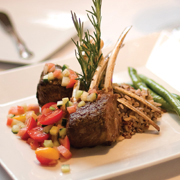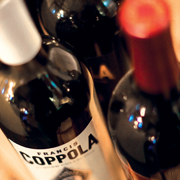 The Cooking Kinsman
Talk about dedication. Owner Rob Orr's father, mother and sometimes even his brother make the three-hour trek to Big Bear from Oxnard each weekend, where they join Orr and his co-owner wife, Chelsie (along with any one of their five children), inside the kitchen of Madlon's restaurant. "Almost every weekend you'll find at least one of the kids on the line, cooking or arguing with us about who's right," Rob says good-naturedly.
The family is not without serious cooking credentials, however. Rob graduated with honors from Le Cordon Bleu in Pasadena. "My expertise is in pastries and baking, but I also enjoy the savory side of the kitchen," he says. Chelsie studied at the Minneapolis campus of Le Cordon Bleu as well, graduating with honors. "My first chef position was at a Provencal-style French restaurant, similar to the type of food Madlon's offers—simple, non-pretentious country cooking—my favorite," she says.
They were naturals at the stove, although the lives they led previous to their foray into the culinary arts were on the other side of the chopping block. "I lived and studied in Germany for two years. I was going to be a linguist," Chelsie says. "I was scheduled to go to Italy—my school was paid for, my plane ticket bought. Then Sept. 11 happened and everything changed. I had always loved to cook and throw dinner parties for friends, so I just kind of fell into it."
Rob's story runs along similar lines: "I was in the Marine Corps during the Gulf War and then went to college for my degree in business administration," he says. "I worked as the information systems director for two different post-production houses in Hollywood and a hospital in the Antelope Valley before making a complete career change by attending culinary school." Of the 360-degree turns in their field of work, Rob says, "I guess it takes some people a while to find their calling."
If pairings are of major importance in cuisine, this couple started out with a great one of their own—they even met inside a kitchen. "It was at a restaurant called the Lowell Inn, in Stillwater, Minnesota," Chelsie says. "Rob was working as the head pastry chef and I as a line cook." (Things heated up, but no one got burned.) Now they're side-by-side, working with each other and their children, teaching and learning on a daily basis. "I love that I can do what I do with my entire family, the heart and soul of the restaurant," Rob says, smiling.
It's all relative, apparently. Rob's mother, Nancy, and his father, Robert, are on the accounting side. Rob's children—Rayna, Kylie and Brenna—work next to them in the kitchen. "Our other two little ones, Cadin and Phoenix, are still too young to want anything more than a free meal," he laughs. "But we're hoping their tastes continue to develop."
Once a 1970s German restaurant, the property was purchased by Madlon Meade in 1995 and eventually taken over by the Orr family a year ago. Now the French-inspired menu boasts appetizing starters like the brie cheese baked inside puff pastry and brushed with raspberry chipotle sauce, or (for the unflappable foodie) the imported snails, done in a scrumptious butter garlic sauce. After those little jewels, choose a delectable main entrée from the pasta, seafood, poultry or meat sections—perhaps the black tea smoked duck with miso sauce? Or you might be the rack of lamb with minted tomato and cucumber relish type of patron. Well, there's always the crayfish and sweetbreads dish with aromatic vegetables, for those who can't decide. Any of it accompanied by a lovely Bordeaux off the extensive wine list makes for a grand evening.
"Like other forms of art, food is constantly evolving. Striving for perfection in each plate is both challenging and gratifying," Rob says. "But the satisfaction and appreciation of our customers is definitely key." Locals say they love the food, and people drive from the San Fernando Valley, Hollywood and Orange County to get a taste of it. "Nothing is sweeter than to hear a guest say they've never had a better meal," Chelsie admits. "That's as good as it gets—it's what inspires me."
The Orr's philosophy on Thanksgiving is inspiring to others as well. "Everyone should have the opportunity to enjoy a wonderful meal, hopefully alongside family. This is the second year we're hosting a pay-what-you-can-afford dinner, because some families simply can't fund a five-course meal," Rob says. "We're hoping the families that are better off will make a more generous contribution." All of the proceeds will be donated to a food based program to help those less fortunate. Last year, Madlon's donated over $1,200 to its local food bank. This year, donations go to Meals on Wheels. How's that for a little do-goodness?
If nothing else, ski season is coming up. For flatlanders wanting a quick jaunt down powdery slopes before resigning themselves to bad overhead lighting and sterile cubicles (i.e., work), Big Bear is the closest, most cost-efficient option for a stint of escapist glee. Before you spiral back downhill to your own reality, stop in at Madlon's for an absolutely fantastic meal.
Q and A with Papa Orr
Q: Why Big Bear?
A: I can't think of a better place to do it than Big Bear. This community is loaded with family-centered businesses. For my wife Nancy and me, this is an opportunity of a life time to do something as a family. We get the opportunity to work with our son and daughter-in-law, the best chefs we know.
Q: Has the entire family been recruited to work at Madlon's, or what?
A: You already know about Rob and Chelsie. There's also our other son, Scott, who's spent almost every weekend working to keep the property together. Our daughter Rebecca, who lives in Michigan, has made it possible for us to experiment with some Michigan wines. It was on one of our visits there that we discovered cherry port wine—a big success at Madlon's. Everyone in our family, including Chelsie's parents that have traveled from northern California to provide some landscaping and other support, are part of it.
Then there are the kids. Our three eldest granddaughters are great sous chefs in their own right; our oldest grandson acts as entertainment director for our younger clientele; and of course there's Phoenix, who can be found next to me, greeting our friends and making sure they're enjoying the evening.
Q: What do you think makes Madlon's so unique?
A: For over 20 years, I traveled all over this country, eating in many great restaurants and some not so great ones. Most of them were either so relaxed that the server was smacking chewing gum while taking orders, or they were so formal their faces may have cracked if they attempted a smile. Our objective was to create a fine dining environment where everyone feels invited and comfortable. The combined objective of everyone at Madlon's is to provide our patrons with a fabulous experience every time they come in. We welcome all attire—evening dresses, blue jeans (and most things in between).

909.585.4365 | 909.585.3762
829 W. Big Bear Blvd., Big Bear Lake
www.madlonsrestaurant.com