San Clemente Boys & Girls Club
Mark Schmitt was a long-time board member of the Boys & Girls Club of the South Coast Area in San Clemente. Mark had a long and successful career at Assurant Group in Santa Ana, but he never had the opportunity to complete a four-year college degree. Through Mark's volunteer work at the Boys & Girls Club, he placed tremendous energy into providing local kids with an opportunity to do well in school and advance to college. Mark passed away in early 2015, and the Club felt it was a fitting honor to remember him by naming the agency's college prep program in his memory. The Mark Schmitt College Bound is a program that seeks to serve first generation college aspirants in the college admissions process. Furthermore, students are introduced to the world of work by learning critical hard and soft skills that they will need to find and keep jobs.
In addition to one-on-one student mentoring, College Bound includes weekly group workshops that focus on topics to get participants thinking about their future and the variety of options available to them. They learn about being self-motivated, facing their fears, and developing goals and a plan. Twice a week a retired San Clemente High School AVID teacher, Nikki Budde, leads workshops for the College Bound students to prepare them for college and career readiness. For example, she helps the students on ACT/SAT preparations, scholarship availability, and applications and finals preparation. Not only do the students get help with college planning, but once a month, Boys & Girls Club staff reach out to local community professionals who come in and share their expertise in their profession that cater to the interests of the students.
Another major component of College Bound is the hands-on experience of touring colleges and universities. Recently, students had the opportunity to visit California State University, San Marcos and California State University, Long Beach where they were given guided tours and a special preview of a play in the theatre department. Also, during the first year of the program, they visited Point Loma Nazarene University and the University of San Diego with tours of the campuses and a review of programs offered. Later in 2017 the students will be visiting UCLA and USC. In the spring of 2017, College Bound students had an opportunity to attend a local conference in Irvine presented by the Southeastern Conference Universities, such as Auburn University, Texas A&M and University of Alabama.
These visits allow the students to see differences between schools, both in campus life as well as entrance requirements and programs offered. This experience gives them the opportunity to explore what may be best suited for their future as well as envision themselves in the college environment.
Now completing its second year, the Mark Schmitt College Bound program has expanded from ten to twenty students with the majority of them being the first one in their family to attend college. For instance, Lucy Vega, our first-year College Bound senior was the first in her family to go on to post-secondary education. She is currently attending Grand Canyon University majoring in Forensic Science.
The program has exceeded all expectations with one current graduating senior, Yesenia Martinez. She was voted as the 2016 Youth of the Year at the Boys & Girls Club where she fulfilled all the program parameters of College Bound including volunteering to work with the younger children in the Club. She has been accepted into over ten colleges around the United States and has chosen to attend, California State University, Fullerton.
The College Bound staff and volunteers are continuously welcoming and recruiting new students into the program. It is a critical aspect of the Boys & Girls Club mission to develop each student into a competitive college candidate. If you are interested in receiving more information on how to get involved, take a tour or make a donation, please contact Allen Reese, Chief Professional Officer, at allen@bgcsca.org or (949) 484-0199.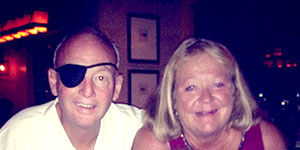 A Friendship Honored
by Brianna Wright
It is a friendship that reminds one of Joe Namath and Don Maynard of the New York Jets — who cares which one was the quarterback. Ray Taccolini and Mark Schmitt just had a way that they connected. It didn't matter if it was socially around the town of San Clemente, professionally at the Boys and Girls Club or fundraising at Our Savior's Lutheran; they connected. They made things happen. Fun, you ask? If you want to have a good time — go to the Lakers game with Ray and Mark, then hit the House of Blues after Robert Horry drained a three-point-shot to win the game and basically steal the championship from the lowly franchise of the Sacramento Kings. If they surfed, they would have won the world's tandem championship. There are friendships and relationships that just work, and this was truly one of them. Their love for the San Clemente Boys and Girls Club has led to the accelerated growth of the College Bound Program. In fact, Mark was involved in many capacities at the Boys and Girls Club for over 25 years and served on the Board of Directors for 15 plus years.
After the untimely passing of Mark in 2015, Ray funded The Mark Schmitt College Bound Program in honor of his best friend's legacy. Located in the San Clemente Boys and Girls Club Teen Center, the program provides a safe environment for learning, as well as a college entrance platform. A handful of the students are from under-privileged families and most are first generation college applicants and hopefully, first generation college graduates.
www.bgcsca.org
(949) 492-7551
1304 Calle Valle
San Clemente, CA 92672