This San Clemente realtor-turned-philanthropist makes more than housing dreams come true, he helps your kids achieve their dreams.
Ever since longtime San Clemente realtor and resident Michael Anthony was introduced to the benevolent Nick Pasquale Foundation, he was smitten with the extraordinary impact it made on kids in the community.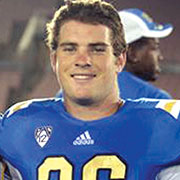 If you haven't already heard of the foundation, it was created in loving memory of San Clemente's own Nick Pasquale, whose tragic death at the young age of 20 shook through the community last September. Nick was a spirited, dedicated young athlete who ultimately wanted to be a firefighter, or in a career that helped others. The foundation carries on his legacy by using monetary donations to give financial support to athletes who demonstrate extreme effort and leadership on their sports team, and who are in need of grants or scholarships to pursue their dreams.
Enter Michael Anthony. He'd met the Pasquale family through Pop Warner Football, coaching and sitting on the board as co-athletic director alongside Nick's dad, Mel. "We were so blessed to have the opportunity to coach these talented kids and become friends with so many parents," Anthony says. "So when I found out about the foundation, I wanted to make an impact." He donated $1000 right away. And then $5000 more after that.
But that wasn't enough for Anthony. With two of his own football-playing boys in college, Anthony recognized the incredible opportunities the foundation would bring to the kids it served. "I woke up the next day and read the mission statement for Nick's foundation, and I knew in my heart this was going to do such amazing things for the community," he says. "I just had to give more." That's when he pledged an additional $5000 for every real estate transaction he closed in 2014. To date, he's at $11,000 total and climbing. How's that for philanthropy?
Anthony works for one of the top-ranking real estate companies around, Luxre Realty. Even as a boutique company, Luxre prides itself on 5-star service. The beautiful downtown office on Del Mar Street also houses its preferred lender, Wells Fargo, and hosts a warm staff that cares about helping clients find the house of their dreams. It doesn't hurt that Anthony also has his MBA and an engineering degree, a huge benefit during real estate negotiations and getting his clients above market value on their homes. "My favorite part of being a realtor is seeing the smiles on my clients' faces, and knowing I've done everything to make them happy." Now he's spreading those smiles even further into the community, through the Nick Pasquale Foundation.
John Elston, president of the foundation, is grateful for the financial rallying. "The community support for our foundation has received is phenomenal. The outreach and continued support has established a base that will allow the memory of Nick Pasquale to live on for a very long time," he says. And he's right: The foundation has already given back monetary contributions in excess of $20,000 to organizations that support its mission statement.
"Goodwill goes a long way in starting any charitable organization, but without people like Michael Anthony caring enough to donate his hard-earned money, we could never do what we are doing," Elston says. "His tenacity and success as a top real estate agent has carried over to the foundation and enriched every single part of it."
Michael Anthony / Luxre Realty
222 Avenida Del Mar, San Clemente
949.370.3590
www.schomesblog.com
The Nick Pasquale Foundation
NickPasqualeFoundation.com