The way we do things defines us!
Mulch started a year and a half ago with creating one pant, the classic — our tailored. We started making our own clothes because after graduating from college in Cultural Anthropology (Mehr Alejandro) and International Studies (Philippe), and many travels, we had realized that fashion industry was one of the most wasteful, and thrived on maximizing consumption. What drives consumption is constant push for lower prices at any cost, and a preoccupation by the next trend. We realized that the fashion industry has an obvious lack of appreciation for craftsmanship, and in the making of fashion, a void in the expression of individuality, we decided to fill.
To make our first pant, we got this very ugly fabric from a thrift store, no one could have envisioned turning this fabric into a cool pant, but we wanted to test our first pattern. Mehr Alejandro with passion for the craft, decided to try out some dye techniques. He ended up dyeing the fabric four or five times. By the time he made the pants nobody had ever seen anything like it and no one could believe Mehr made the pants. Everybody wanted one and Mulch California was born. Our father got a hold of it, and decided to bankroll us, with one condition. If we wanted to be the best pant company in the world, we needed more than just the hottest style, we had to have the best quality and be socially and environmentally responsible.
So, we were off and running with extensive research, buying equipment, setting up shop; learning dyeing techniques from masters, pattern making, developing our supply chain and improving on our techniques day by day. We were committed to do it the hard way—our way.
Today, Mulch California is a responsible fashion house with headquarters in San Clemente, California. Mulch California was founded by brothers Mehr Alejandro and Philippe Zarif with the aim of giving people and nature a voice in the conversation about the future of fashion and our planet.
Our team embraces difference! Inspired by world cultures, we're creating a community of like-minded people. Mehr Alejandro collections reflect his love of diversity. We at Mulch have great respect for individuals and appreciate our differences.
We are socially and environmentally responsible, not only in words but in our decisions and actions—our way of life. Our goal is zero waste, we design for upcycle and our product includes the internal and external cost. We believe in transparency, responsibility and ethics.
We wanted to grow the brand organically unlike most brands, who outsource to low cost regions for manufacturing and focus entirely on marketing. We focused on mastering the entire process; from design, fabric selection, dye techniques, engineering patterns, cutting and sewing. We do it all in house — perfecting today's look and working on tomorrow's.
Mulch started tailor making one-of-a-kind custom pants for high-end clients. Pants are one of the most difficult garments to craft. We said, "If we can master pants, we can do anything."
Today, we create our own unique designs. We use recycled and overage fabrics, and hand dye them to recreate truly one-of-a-kind fabrics. We have built a supply chain that follows fair trade labor and is of the highest quality. We manufacture all of our products in California and have amassed a high profile clientele including pro-athletes, and celebrities.
In January 2016, we launched our online retail shop www.MulchCalifornia.com. We offer Bespoke, made to order, and ready wear.
Bespoke is our mainstay. We meet with our clients, get their measurements and an idea what they're looking for. Mehr Alejandro then designs a one-of-a-kind bespoke pant and on occasions, for special clients; a custom collection. We are not afraid of any requests.
If Bespoke is our bread and butter, our made-to-order, limited edition designs is the new wave of fashion, allowing the customer to choose their size for a given design before it's actually made. It is a new way of shopping that gives the power to the clients to choose what they want, while keeping Mulch flexible and minimizing waste. We believe this is the future of fashion.
Our ready-to-wear consists of one-of-a-kind designs and can be picked up or available to ship same day. When you order made-to-measure or ready-to-wear from our website, we offer hemming options so customers can get their pant length correct.
We have a life time warranty on all of our products, along with offering repairs, reuse, repurpose and recycle to extend the life of our products.
We are getting ready to launch our new line of backpacks, tops and a highly anticipated women's line.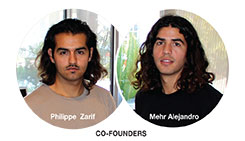 www. MulchCalifornia.com
Instagram: @mulchcalifornia
Snapchat: @mulchcalifornia