"A New Experience in Latin and European Cuisine"

Rocco's Restaurant is owned and operated by local Master Chef Rocco Carbonara who has been preparing delicious meals for San Clemente locals for a long time. His newest venture, Rocco's Restaurant, opened over a year ago and has attracted quite a following with his amazing cooking, diverse menu and extremely affordable prices. His diverse dinner menu has made getting a reservation more and more difficult. His slogan "Affordable Elegance is our Specialty" really describes what's been going on at Rocco's for the last year. "I've been in the restaurant business for 25 years" Rocco says "and now I can bring all that experience together and give people a place they can afford without sacrificing the quality of the food or the dining experience."
Rocco, 41, was raised in Bari, Italy, two hours south of Naples. At age 16 he took his first job working in his parents Trattoria, making pasta, ragu, gelatos and other small plate dishes, working each day after school. At age 18 "I realized my true calling" says Rocco, "and enrolled in Istituto Alberghicio Armando Perotti, which is the Italian equivalent of the famed Cordon Blue cooking school." After graduating, he worked on Ibiza Island preparing meals for International tourists at the Golden Tulip, a fancy Italian restaurant and resort hotel.
Completing several more stints at luxury hotels, he came to the US in 1992, where he cooked for his uncle Tony Carbonara, at Carbonara's Trattoria Restaurant and for his Aunt and Uncle who own "Tina and Vince's Italian Deli" both on Avenida Del Mar, San Clemente's charming "Main Street." In the late 1990's he helped a friend from Capri open up "Rustico" a gourmet Restaurant in Telluride, Colorado. After a few years he returned to San Clemente and opened up "Meditrano" a successful Restaurant at the Country Inn Hotel (San Clemente) which eventually closed with the sale of the hotel.
He then went back to work with his Uncle at Carbonara in the early 2000's and while working there he met his future wife Belkis who's from Maracay, Venezuela, a town Rocco's mother hails from as well. Belkis and Rocco hit it off instantly and were married about a year and a half ago. Deciding to take a risk, they bought Rocco's Restaurant a year ago and if that wasn't challenging enough they were blessed with their first child (a boy) Justine Cash Carbonara, three years ago. Belkis who is full-time mother, wife, bookkeeper and usually at the restaurant to help with everything, says "I've been so busy lately, that this last year has flashed by." What to do in her free time however is not an issue, "because I have none" she says while smiling.
Rocco, who is a veteran chef, knew exactly what he was in for and so far he has been up to the challenge working long hours with most of the menu handmade and homemade, something Rocco believes strongly. "You can taste the difference when things are handmade and homemade" says Rocco "It may take more time and effort but it's worth it to me, it makes a big difference." The restaurant has been a hit from the start and if you stop by, you'll see what all the fuss is about. From his Sunday night special $20 rack of lamb, to his daily dinner specials (changed weekly.) Rocco has the right idea when it comes to marketing his product; great ambience and wonderful cuisine at affordable prices.
Rocco's restaurant is a family affair with Rocco, his wife Belkis, and her brother Rumolo all pitching in to help at the restaurant. Throw in a few cousins and it's easy to see why Rocco's has such a cozy family atmosphere. Starting in May, Rocco's will have an early-bird special Monday thru Thursday, from five to six, featuring seven delicious entrees like Veal Marsala and Salmon Fettuccine for only $14; house wine will be available for $4 a glass. Rocco's restaurant is also available for private parties, banquets and off-site catering.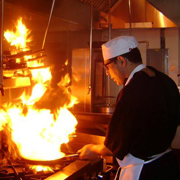 Rocco's Ristorante
Call for Reservations, Catering &
Special Events 949.388.7766
www.roccos-restaurant.com
203 N. El Camino Real, San Clemente, CA 92672