"It's My Job to Make Things Look Cool"
As an Artist, people often ask me where I get my inspiration from.
Most all of my painting inspiration comes from nature and life.
Being a surfer and a traveler takes me to some of the most amazing places on earth. These experiences in my life are real and authentic, they become part of my story.
Art is so much more than painting pretty pictures, it is a different way of thinking and looking at the world.
It is raw creativity and wonder. Art is the ability to articulate an idea, feeling, or story, to others.
What follows is a story about the inspiration behind my painting SUNRISE:
During a trip to South Africa, on the beautiful beach of Jeffery's Bay, where the ocean is full of life and the waves seem to peel forever, I was inspired to paint the sunrise.
One morning before dawn, after the coldest night of the year, I awoke to be the first to ride one of these magical waves. Standing in the dark, shivering in my wet-suit, I used my surfboard to block the icy winds. The crashing waves kept me company but I could not see them in the darkness. Above me, millions of stars illustrated the vastness of the Universe.
As my mind began to wander, I felt cold and alone, as if I was nowhere in time or space, just another soul or speck of light in the night sky so far from each other.
Finally a tiny faint glow in the distance caught my eye, it steadily grew larger with every second and in a sudden burst, a tremendous wave of light raced across the sky.
In a fraction of second it erased the darkness and the millions of stars. I instantly felt the warmth of the light as the wave illuminated me. I embraced it and basked in it, it felt like God's warm hands on my face.
I was no longer alone, a new day had been born, the endless waves and our beautiful world came into view. This is our true gift, every single day.
The earth is our mother.
The sun is our father.
The ocean is where I was born and feel most at home, it calls to me.
I am a Son of the Sea.
Life is Good,
— Drew

Drew Brophy has been a professional artist his entire life. He has successfully created a lifestyle of art, travel and surfing. And he loves to inspire others to find their path to happiness, too. The most effective way for Drew to share his tips, techniques and experiences is through live events. Here's a list of some of the services he offers:

Artist Lectures
How to Thrive as a Professional Artist Lecture
Experiential Workshops
Dynamic Experiential Art Workshops
Paint Pen Workshops
Hands-On Paint Pen Techniques Workshops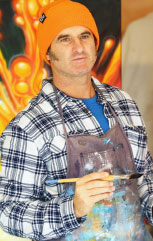 SON OF THE SEA, INC.
Drew Brophy Art Studios
949-678-8133
Post Office Box 836
San Clemente, CA 92674
info@drewbrophy.com
www.drewbrophy.com