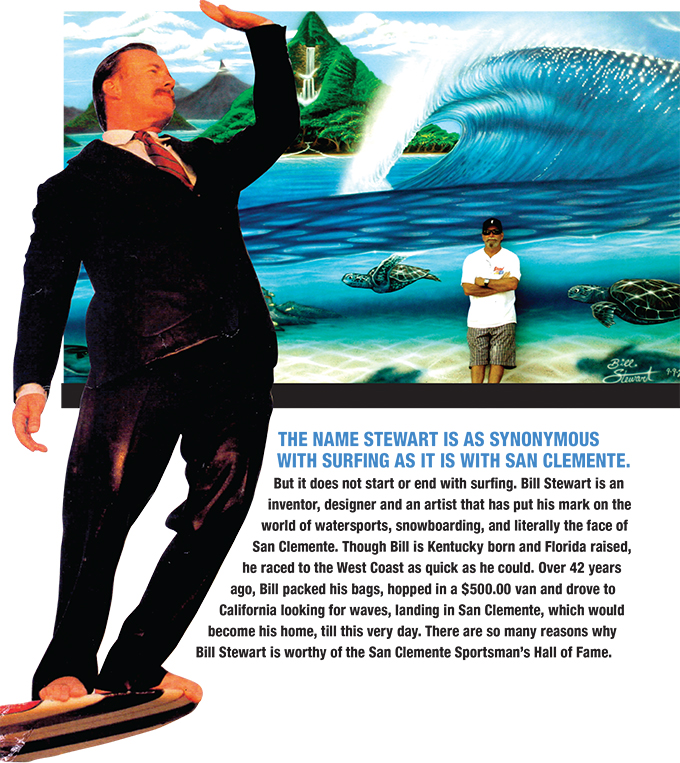 Bill's inventions and designs have shaped the surfing world into what it is today, creating a global brand in the wake. It is no wonder he was voted one of the top 25 most influential people in Orange County, along with Tiger Woods and Oakley's founder, Jim Jannard. Bill's two most instrumental surfing innovations came in 1984-85 when he designed the beveled rail, 2+1 fin configuration, high performance long board that revolutionized long board surfing. Bill's need for a faster, more responsive long board, was his driving force in creating a design most surfers today could not fathom surfing without. This design was dreamed up at the same shop on S. El Camino Real where he is still producing boards today, and tested to perfection in the waters between San Onofre and Cottons Point and then around the world. He is the co-creator of the Future Fin Systems leading the charge to making it a patentable product. He also designed the Future Strong Box, applying rocker to the box, something that no one had ever thought of before.
Among his many short board and long board innovations, Bill has applied his genius to many other board sports. He has created a four-man surfboard that was premiered at the U.S. Open in Huntington Beach, also inventing the winged nose-riding fin. He has shaped wake boards, skurfers, and tow-in boards, and is now infamous for his 1981 snowboard design with features that were way before their time. This snowboard was the first to have a high backed boot, swivel boot, channel bottom, foam core, and the first snowboard to use airbrushed graphics; all firsts. It was a design so incredible Bataleon Snowboards in the Netherlands has revamped the design for a full global distribution for 2014-15 with Bill's original artwork right on the deck. He is also well known for the award-winning "Night-stalker" surfboard, which won the Billabong Shape Challenge, raising close to 6,000 dollars for charity. It was the first surfboard with headlights and a plexi-glass nose. Bill is always mixing design, invention create, but his art puts these creations above the rest.
Artwork is a huge part of Bill's life, as an artist who is famous for his airbrushing skills. He is the second person in history to ever use airbrushed artwork on a surfboard, a skill started and perfected at Rick James' Surf Shop in North San Clemente in 1972. Airbrushed artwork is so standard today on surfboards it's hard to imagine being done any other way. He was voted Best Artist by Surfing Magazine in the 80's and also has two iconic murals all over California. Most notably, his 80 ft. Malibu mural at Topanga Point and his San Clemente Wave Wall mural that is iconic at his storefront in San Clemente. He was filmed live, painting two murals for the MTV beach house, and has been featured on fuel TV's Daily Habit, showing off his airbrush prowess.
MTV wasn't Bill's most prolific TV appearance. He was notoriously featured in an Office Depot Commercial that ran during the Super Bowl. The commercial was so successful it ran for 7 months, 20 times a day on national television. The ad spotlights Bill surfing San Onofre and working in San Clemente as a creative, active surfboard designer. Considering Bill has hand-shaped 40,000+ boards, and sits over a company that has produced over 100,000 boards, that claim couldn't be closer to the truth. He has shaped boards in France, Portugal, England, Japan, Australia, and Peru. His high performance long boards have ridden their way to 3 world long-boarding championship titles. He produced a board for famous Russian statesman Mikhail Gorbachev, featuring an American flag on one half, Soviet flag on the other and a symbol of world peace to top it off. Arguably one of the most high profile surfboards ever made, appearing several times on CNN and other world news outlets. All that being said, at the end of the day he revels more in the joy he has brought to hundreds of thousands all over the world in surfing, snowboarding, and art.
Bill Stewart is a paragon of San Clemente sportsmen, but more notably he is one of the most influential artists, inventors and designers in San Clemente, Orange County, and as far as surfing is concerned, the world. Bill would love to add the membership to the San Clemente Sports Hall of Fame to the list of his many accolades all of which stem from the inspiration of this wonderful city.
2102 S. El Camino Real
San Clemente, California
www.stewartsurfboards.com