As the warm spring air melts the winter snow pack, Big Bear Lake transforms from Southern California's major ski and boarding destination into one of the state's premier bicycling locations.
While Big Bear Lake is well known by mountain bike enthusiasts for its epic cross country riding, the mountain also offers plenty of riding options for novice riders and family groups alike. Choose from a lakeside ride on the Pedal Path, a scenic ride through the forest on fire roads, or single track riding. The mountain also offers great road cycling. Imagine riding along the same roads used by the pros in last year's Tour de California!
A very popular option is to combine your bike ride with a scenic trip on the Sky Chair at Snow Summit. Avoid the major uphill peddling while soaking in the breathtaking views on a ride to the top of the mountain. At the top of the Sky Chair lift, you will find the main forestry access point of the upper trails and fire roads. Multiple terrain options are available for all types of riders – novice to pro.
Chains Required Bike Shop is here to help you make the perfect plan for your bike riding adventure in Big Bear Lake. We are a full-service bike shop located just one block from the base of Snow Summit's Sky Chair and forest access. Our full rental line includes 26" and 29" hard tails, full suspension mountain bikes, comfort bikes, road bikes, kid's bikes, trail-a-bikes and trailers, and all rentals are available by the hour, half day, or full-day. If you're in the market for a new bike, we carry a full line of Trek and Giant bicycles. Chains Required Bike Shop has a professional on-site repair shop ready to help get you back on your bike. The shop is fully stocked with parts, accessories, bike and summer clothing, maps and an abundant supply of free advice to help make your biking-trip to the mountain a memorable experience.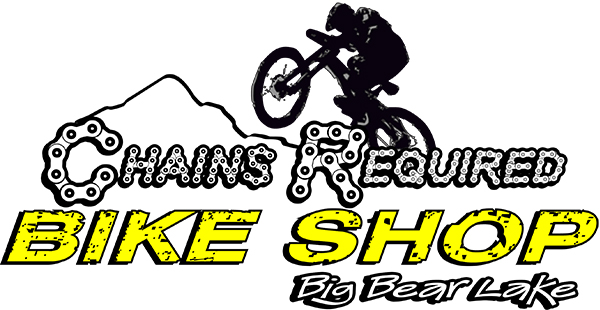 Come see us at the southwest corner of
Summit Blvd. and Big Bear Blvd.
909-878-3280
41869 Big Bear Blvd., Big Bear Lake
www.chainsrequiredbikeshop.com