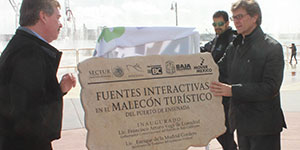 The head of the Ministry of Tourism, Enrique de la Madrid Cordero and the Governor Francisco Vega de Lamadrid unveiled the works and projects for granting subsidies in strengthening and diversification 2016.

In an event considered as historic for the city of Ensenada, the governor of the state, Francisco Vega, inaugurated the Malecón in Ensenada and the extension of Bulevar Costero.
Federal Tourism Secretary and the head of the state executive, on a working trip to Ensenada indicated that these funds will be used in initially seven projects aimed at providing a better picture and alternative tourism.
They added, the works that are part of the agreement consist of: the transition from overhead power lines to underground in tourist areas of Tecate and Tijuana, a museum for underwater park and the creation of an eco-tourism route in Playas de Rosarito.
Also, installing tourist signage, street furniture, as well as tourism training program promoted by the state government in different destinations, including the cities of Mexicali and Ensenada.
The Governor stressed that Ensenada will benefit with these programs as in previous agreements with the federal authority, while the head of Tourism has stated that an agreement could still expand in the state.
Then, both authorities held a dialogue with representatives of the tourism sector of the organization, where priorities and actions for the short, medium and long term in tourism were raised.
Vega de Lamadrid announced the creation of the management of Health Tourism and the establishment of two advisory councils in Mexicali and coastal area in coordination with the federation, in addition to tracking the project to increase the number of cruises.
He also stated, this will strengthen efforts to enable an intermediate port on the route between Ensenada and Los Cabos, at the port of Santa Rosaliíta, which would detonate the economy of the area for its natural, cultural and water sports attractions.
He mentioned they were planning to create legislation to promote the wine industry and products derived from the vine that allow access to all federal, state and municipal programs in support of this industry.
As part of the tour by Secretary of Tourism, the Federal Official and the State Governor visited and unveiled a plaque to interactive sources enabled in the tourist boardwalk Ensenada, an investment of 26 million pesos.