For everyone who enjoys outstanding food and service in an elegant comfortable atmosphere that will transport you away.
Located at the historic Capistrano Depot, built in 1894 by the world famous San Juan Capistrano Mission, The Vintage Steakhouse features classic American Steakhouse Cuisine with a twist. Creative and imaginative dishes that burst with flavor using only farm fresh ingredients and prepared by an award-winning chef.
At The Vintage Steakhouse, we do things a little different…for the better. All of our entrees are accompanied with the Chef's selection of farm fresh seasonal vegetables, as well as your selection of our signature potato creation at no additional charge. Also, our Chef insists on using a true mesquite open-fire charbroiled, to give you that mouth-watering distinct flavor to each piece of hand-cut steak and seafood. In adidition, our salads and produce are sourced from California's organic producers to ensure the healthiest and fullest flavors possible.
Experience the romance of dining in a cozy romantic 1927 fully restored Pullman Car. Enjoy a cocktail in an 1887 Freight House Bar and if you want, sip on a glass of champagne on our covered patio. Watch the trains pass by our triple-arched windows in the art deco main dining room while enjoying amazing food and service.
Enhance the wonderful ambience and amazing food with a selection from our extensive temperature-controlled wine cellar. Let the smooth jazz music tantalize you, while you enjoy dinner, martinis, specialty drinks or champagne in our lounge. Enjoy the view of the Los Rios District with its quaint 200 year-old adobes that are nestled in bougainvilleas and willow trees.
The Vintage Steakhouse offers the perfect venue for any occasion, including private rooms for special events. We custom create our events to your needs and desires.
---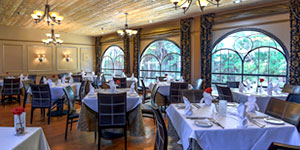 Banquets
Our well appointed restaurant has the ability to accommodate up to 250 guests privately.
The Main Dining Room complimented with 18 foot ceilings, hardwood floors and dressed with many paintings can accommodate up to 90 guest.
The Dining Car Room with its elegant atmosphere and historic ambience can transport you and your guest to another time, can accommodate up to 45 guests.
The Chef's Alley Room complemented with its own bar can accommodate parties of 25 guests.
Please call or inquire with any one of our staff members who will be delighted to assist.
All aboard for great cuisine and wonderful memories.
HOURS:
Sunday Brunch – 11:00 am to 3:00 pm (Sundays Only)
Lunch Daily – 11:00 am to 3:30 pm
Dinner Daily – 3:30 pm to 9:00 pm (10:00 pm Friday & Saturday)
Lounge & Bar Menu Daily – 11:00 am to Closing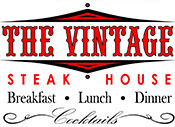 The Vintage Steakhouse
thevintagesteakhouse.com
26701-B Verdugo St., San Juan Capistrano
(949) 661-3400