Welcoming guests since 1968, the Westlake Village Inn is the original luxury retreat destination in the Conejo Valley.

The Westlake Village Inn's lovely wrought iron fence is your gateway to a magical place. The view of lush, green landscapes that seem to be never-ending, the enchanting lake, cobblestone paths, vineyards and beautiful gardens with lovely gazebos and charming arbors are enough to leave you captivated. The Inn is both a hotel with 141 well-appointed deluxe accommodations and a special event venue that caters to weddings, birthdays, meetings and other special occasions. Located halfway between Santa Barbara and Los Angeles, the 17-acre property hosts various banquet and meeting rooms, outdoor weddings sites and a vineyard.
The Village at Westlake Village Inn™ is also home to the most popular restaurants in the Conejo Valley, Stonehaus a boutique enoteca reminiscent of Italy – the perfect place to wander through our vineyard and sip wine. Bogie's, the "classy little joint" perfect for cocktails and dancing and Mediterraneo, known for its creative bistro style menu, are all only a few steps away.
While you could easily spend your days lounging poolside, our lush, 17-acre resort offers so much more. Indulge in a private wine tasting at The Stonehaus or savor creations from our talented chefs in Bogie's or Mediterraneo. Active guests can utilize our bicycles to enjoy local trails or visit the adjacent 18-hole golf course and driving range. We will gladly provide a picnic lunch upon request. You can also rejuvenate in one of our spa treatment rooms or indulge in the luxury of sitting on your private patio while enjoying the views of our lake, golf course, courtyards, fountains or the Santa Monica Mountains!
The Village at Westlake Village Inn™ is the ultimate choice for any special event or a weekend getaway. The Inn offers almost everything a guest could ask for on a holiday or special occasion. Whether it's a day event or a week-long stay, the staff is always ready to cater to your needs. Call now for reservations and inquiry.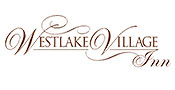 www.westlakevillageinn.com
(818) 889-0230 • (800) 535-9978
Catering Department: (818) 889-1460
31943 Agoura Road, Westlake Village, CA 91361