Tijuana to Work One of the Main Tourist Destinations
of Mexico: JAO
The Mayor, Dr. Jorge Astiazarán Orci said that the results of investment and growth in visitor numbers over the past year to the city, lies in the coordination between authorities on both sides of the border.
The government of the city, through the Committee of Tourism and Conventions Tijuana (Cotuco), presented the Tourism Promotion Activities 2016, with which it seeks to position this border as one of the main tourist destinations in Mexico.
During the presentation of the program under the Monumental Clock -made Avenue Astiazarán Revolution. Mayor Jorge explained that teamwork and collaboration with citizens help promote the municipality as a place to families around the world can go, to take advantage of medical, culinary and artistic benefits.
"The results of investment and growth in the number of visitors, lies in the coordination between authorities on both sides of the border; Cotuco and congratulations to the people who have participated to position Tijuana as an international tourist attraction, will work to make this city one of the main sites for visitors to Mexico," explained the Mayor.
For his part, President of Cotuco, Francisco Villegas Peralta, said that the plan of tourism promotion for the current year will be supported with different clusters of the city, such as medical, sports and real estate, and give prominence to the activities adventure tourism, cultural and gastronomic.
"We are currently working to consolidate the Mega Region Tijuana-San Diego through supply and tourism promotion, and to keep working with binational institutions. Tijuana is the national capital of medical tourism, also distributing cards in California to offer pharmacies, hotels and certification of 50 thousand doctors working in this border," the official said.
During the presentation, members of the presidium inaugurated the tourist information module located in Plaza Santa Cecilia of the Central Zone, which will provide information to visitors 24 hours.
The event was also attended by the Secretary of Economic Development of Tijuana, Peniche Xavier Bustamante; the president of Tourism Council of San Diego, Joe Terzi; delegates Zona Centro, Karim Chalita Rodriguez IV; and Playas de Tijuana, Martina Espinoza Montenegro; Secretary of State Tourism, Oscar Escobedo Carignan; as well as officials from the three levels of government and representatives of business chambers.
---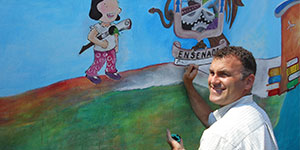 40th Anniversary
Sister City Riverside-Ensenada
Bibliotecas Hermanas during the event "Encuentro Arte y Lectura Riverside-Ensenada," celebrated the 40th Aniversary of the Sister City relationship between Ensenada and Riverside. Last year's anniversary, Mayor Rusty Bailey, participated in the Encuentro Arte y Lectura Riverside-Ensenda, organized by Bibliotecas Hermanas, by doing the first mural. Mayor Bailey knows the importance of promoting goodwill between our two contries.