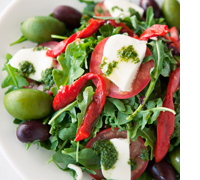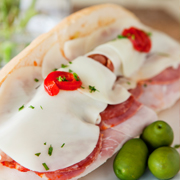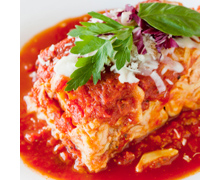 Tina & Vince's Catering
221 Avenida Del Mar, Suite B, San Clemente
949.498.5156 / Fax: 949.218.5481
www.tinaandvincesdeliandcatering.com

Tina & Vince Celebrate the Deli's 25th Anniversary

It's two in the afternoon on Thursday well after the lunch rush has come and gone but this little family-run Italian deli in San Clemente has a queue of ten customers waiting patiently to place their order. The open floor plan with a few scattered tables invites you in, and waiting at the counter to take your order is Tina, the fiery little Italian woman.
It was 25 years ago when Tina and her husband Vince Raspatella bought the Italian deli on San Clemente's busy downtown street, and they have been running it ever since. It is more then just a deli though, as the walls are lined with an assortment of Italian groceries. Homemade pastas and sauces ready to take home and heat up are available in a small refrigerator. A deli case displays marinated olives, meats, cheeses and cannolis. The warm smell of melted mozzarella on pizza and freshly baked breads fill the store-front and outside a couple of Italian flags, tables and chairs allow you to enjoy your meal while watching the hustle and bustle of San Clemente's downtown.
Tina was 21 years old when she left Italy, she and Vince married and moved to Chicago where Vince opened a bakery. It was their start into the industry and when you walk into Tina and Vince's deli today their roots show through as it feels like a little piece of Chicago with an old school vibe.
It wasn't until a vacation in California more than 30 years ago that Tina and Vince fell in love with the people and the weather, and it became their quest to move their family and make California their new home. "I love this place and I love these people, there's no way someone could take me away from here," Tina said.
When Tina and her family took a trip to San Clemente and saw the Italian deli, they decided they wanted to get back in the business and made an offer. A few days later Tina wondered if she made the right decision in buying the deli and asked a local businessman if he thought she would make it. "Tina you're a real Italian woman and you have an Italian deli, don't worry you're going to make it," Tina said.
Tina's son Rocco recalled the difficulties of starting a new business; "Our first day sales were 60 dollars, that's when we wondered if we made the right decision," Rocco said. Twenty-five years later the family can now recall lines in the middle of summer wrapping around the door and down the street.
The key to their success, Tina said is putting out the freshest ingredients possible. Every day at six in the morning they start baking fresh rolls for their sandwiches. They also make all their own pastas, sauces, sausages and pizzas from scratch.
"Everything is good and fresh; if I don't like it, I don't sell it," Tina said. According to Tina's son Vito his favorite item on the menu is the number 23, mortadella and fresh mozzarella, while Rocco joked and said he liked anything his mother cooked. One local, Brigitte Erwin said she always gets the number one Italian,—"I don't even know what's in it but I love it," while her friend, Michaela, on a first visit tried the eggplant parmagiana, "I'd definitely come back for this sandwich."
"We can make anything; we are full service from the appetizer on through the cake," Rocco said.
The success of the deli has earned it high ratings among popular blogging websites, and the center of attention is always Tina and her fiery personality. "They have given me every name in the book, but they keep coming back… all you have to do is before you get to the counter know what you're going to order," Tina said.
After twenty-five years of providing consistency in her deli Tina still dreams of more. "Opening a pizza place just like in Italy is really my dream," Tina said. The kind of place where you sit down and have an assortment of appetizers while a traditional Italian pizza is being made. In the meantime the family is thankful for their success and looks forward to another 25 years.
Italian Delicatessan Featuring Home Made Italian Dishes
Tina and Vince's is open Monday through Saturday 10:30 am to 8:00 pm