Apparently San Clemente is a good place to grow up, taking waves and fine-tuning your skills. 23-year-old San Clemente native, Tory Gilkerson, wins the 2016 Women's World Longboard Championship.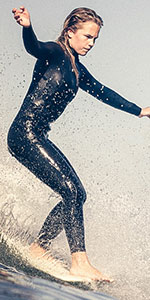 Born and raised in San Clemente, California, Tory has been surfing since she was a grom and now spends as much time as she can in the water. "My life over the last few years has been filled with surfing, traveling, and goofing off. I love going to new places, meeting people from all over and having a good time. My dad surfed a lot so I was born into the surfing life. We were always at the beach from a very young age, and by seven, I became a surfer too, like most kids in San Clemente, I learned by standing up on my boogie board at T-street during black ball in the summers," says Tory.
Tory, her twin brother, Randy, and older sister, Mia, always surfed together. The Gilkerson family spent most of their weekends on road trips, visiting all the local grommet contests. Just about every morning before school, Tory's dad would drop them off at T-Street in the dark to squeeze in some surf, change in the car and usually begging their mother for a ride back after the school day ended. Growing up Tory surfed at San O, giving her an experience that had her leaning towards the traditional side of longboarding. "It's a mellow fun wave and awesome for noseriding," says Tory. Since graduating from San Clemente High School she has been traveling almost non-stop, being home about one-quarter of the year, and spending much of the last two years in Australia, The Telos in Indonesia, and wherever the WSL events took her.
Winning the WSL World Longboard Championship is Tory's first and biggest win yet in her professional competition history. She's come close in many professional events, but this was her first win, and a big one! "I've been very happy with the changes in my surfing over the past couple of years, and no matter what happens in the contests, surfing is what I do because I love it and get so much enjoyment from it," stated Tory. She is looking forward to what the future holds for competitive longboarding and the new adventures to come.