Guests Prepare Healthy and Nutritious Dishes
For an innovative approach to learning to eat better while eating well, the Wellness Kitchen hands-on cooking experience is available at California Health & Longevity Institute. Here, registered dietitians lead interactive classes incorporating "super foods" into creative menus that are delicious and easy to prepare at home for individuals as well as corporate or private groups.
Wellness Kitchen Classes
Fresh, nutritious food and the art of cooking come together in the Wellness Kitchen. Led by registered dietitians who have also trained as chefs, the cooking classes offer practical help on selecting, preparing and enjoying simple yet delicious meals using "super foods" that improve health and increase longevity. The two-hour group classes are a hands-on experience during which guests cook a variety of healthful recipes centered on a theme such as "Eating Well for Healthy Aging," "Family Meals in Minutes" or "Easy Fish Entrees." After preparing the day's menu, guests sit down to enjoy a nutritious meal while discussing practical strategies for healthy eating with the registered dietitian-chef.
The Wellness Kitchen hands-on cooking class and luncheon is available for lunch or dinner. The class is $105 per person for lunch or $125 for dinner, including the meal, apron and the recipes from that day's menu.
Each class is presented in a demonstration kitchen furnished with the most top-of-theline equipment available including a custom-designed Bonnet-range. With an abundance of natural light, guests can step outside to the Wellness Patio, where a colorful mosaic-tiled wall depicts fresh fruits and vegetables. Next to the patio, seasonal vegetables such as heirloom tomatoes, Swiss chard, squash, zucchini are grown and incorporated into Wellness Kitchen menus at every opportunity. Herbs such as rosemary, tarragon and fennel are freshly cut before class to add an additional dimension of flavor to the day's recipes.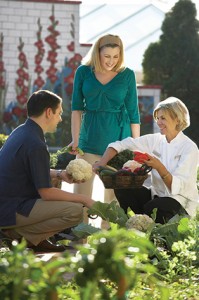 Programs for Groups
In addition to the hands-on class and luncheon, the registered dietitians are available to lead group team-building workshops or presentations for corporate gatherings. The interactive cooking class can be reserved for an exciting dinner option for groups of up to 16, or 50 for a demonstration. For a healthy start to a morning's agenda, a "Breakfast for Performance" class offers a demonstration on how to make simple, fast, nutritionally packed meals. Participants also learn how this most important meal of the day can impact weight, mood and performance before concluding with a healthy breakfast. Registered dietitians are available to give informative and inspiring presentations in a ballroom setting for larger audiences.
---
For more information or to reserve a Wellness Kitchen experience, please call toll free (888) 575-1114, the Institute directly at (818) 575-1114 or visit www.chli.com.