Enjoy the Wine & Entertainment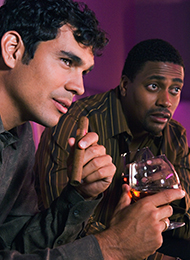 When people think of Big Bear they usually think more of world class snow sports and less of world class wines. Well, that all changed as Wolf Creek Resort introduced Big Bear to their breathtaking new Wine Room and On-Site Vineyard. The Wine Room is not only home to the largest selection of fine wines in Big Bear, but it also plays host to some of the most sought after musicians and entertainers around. So if you are a wine enthusiast, or are just looking to expand your pallet with a knowledgable staff and beautiful views, you will feel right at home.
Wolf Creek Resort is conveniently located minutes from all of the great things that make Big Bear such a desired vacation destination. Wolf Creek is centrally located to provide you close proximity to Big Bear Lake, Big Bear Village, Snowboarding / Skiing, The Bear Cave Concert Venue, Fine Dining, Nightlife, and so much more. For more information about all there is to do when visiting Big Bear please take advantage of our complimentary Better Big Bear Concierge that will take the dates of your stay as well as interest and will give you personalized recommendations to make sure you don't miss a thing.